Zephyr Partners Picks Some Perfect Places To Make Its Mark
Friday, June 26, 2015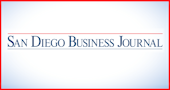 Zephyr Partners is a San Diego-based real estate development and investment firm that was founded in 2008. Ordinarily this would be an unremarkable statement, but most of us remember all too well when late in 2007 the high-flying, unsustainable residential real estate market began its rapid decline, which led to the collapse of Lehman Bros. — and the Great Recession was on.
It was during this tumultuous time that Zephyr Partners grew to 20 projects around San Diego County resulting in a $700 million portfolio. This portfolio includes high-rise towers, multifamily communities and custom homes.
Brad Termini and Dane Chapin are co-founders and co-CEOs of Zephyr and each brings decades of experience in real estate and entrepreneurship to the table.
Termini is originally from western New York where he worked for his family's real estate development and management company. He moved to California in 2003 and worked for Corky McMillin Cos. Among other notable projects, he was a member of the McMillin team that implemented the redevelopment plan for Liberty Station, the former Naval Training Center.
Chapin started his career in real estate development as a principal in Plutsky/Chapin Partners in Los Angeles. He has owned and operated multiple businesses in several industries ranging from insurance to board games.
Termini said the company has eight active projects including multifamily and single-family custom homes. The most widely reported of the large projects is "The Block" downtown, which is planned for mixed-use retail and residential, and "The Park" in Bankers Hill, 60 high-end, luxury condominiums and townhomes.
In addition to the eight active projects, Termini said the company has "12 projects of all flavors in the pipeline in entitlements or getting ready to start construction."
Termini said the first three residential projects for the company were Paseo La Jolla, a 24-unit luxury townhome community in La Jolla; Panorama Ridge II, luxury, one- and two-story homes in Oceanside; and Mesa del Sol, 36 two and three-story single-family homes in La Mesa.
Zephyr is currently under construction on Summerhouse at 2303 Ocean St. in Carlsbad. The development is an enclave of 35 luxury beach condos on the Buena Vista Lagoon in northern Carlsbad. True to its name "Summerhouse," a feature of homeownership attached to this project is a concierge service that can perform a range of tasks such as scheduling a surf lesson or walking the dog. The concierge attendant will also be able to provide kayaks, paddle boards, beach chairs, bicycles, tents and any other equipment beach-living residents might need.
Each of the 35 floor plans, featuring California Coastal architecture, vary from building to building, with eight general styles. Prices range from $1.3 million-$2.4 million.
"We have pre-sold one-third of the projects," Termini said.
Recently the company has been launching its "Signature Series." This ambitious project is for 17 new custom "spec" homes in desirable locations around the county.
"We've identified San Diego's most desirable residential locations by examining their geographical footprint, which encompasses views, walkability, available square footage, proximity to neighborhood amentities and the local community — leading us to these prime locations for Zephyr homes," Termini said.
These luxury homes are created from start to finish by a team of professionals in architecture and interior design. The architectural firm is Burbank-based Gross Building Design and the interior design firm is Carlsbad-based Blackbird Interiors.
No doubt it's quite the undertaking. And if that weren't enough to keep the four partners busy, Termini said the company is making its first entry into Orange County with a new project in Dana Point. The company expects to break ground on approximately 168 townhomes, duplexes and flats adjacent to the harbor in March 2016.
Send luxury real estate items to sglidden@sdbj.com.