PROPERTY: PERNICANO'S SITE, OTHER SPOTS DRAW BIDDERS
Neighborhood Watch Shows Hillcrest Is Hot
Friday, June 26, 2015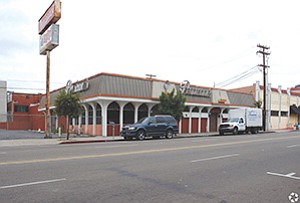 Plans could be progressing next year on a mixed-use development that replaces the long-shuttered Pernicano's restaurant building in Hillcrest — one indicator among several, observers said, of rising demand for commercial property in the popular San Diego neighborhood.
The buyer isn't being named, plans are yet to be submitted and there is no set timetable for whatever replaces what's become a community eyesore. But brokers representing the owner of the property at 3840 Sixth Ave. — where the family-owned restaurant closed more than 30 years ago — said they are in the process of finalizing a sale to a new owner who would redevelop the property as a mixed-use residential and retail project.
Brokers said the sale is ultimately contingent on the property receiving city entitlements, a process that could take a year or more. Agents for the property's owner — George Pernicano, a minority owner of the San Diego Chargers — have been working with the prospective buyer on plans to turn the site into a project with elements long sought in the uptown community, including apartments, condos and walk-friendly stores and eateries.
"We've tried to make what goes in there very community-benefits oriented," said Eric Jones, a broker with Urban Real Estate Services of San Diego, who represents the current owner.
Jeannine Savory, a broker with The Savory Group in San Diego who handled the listing and marketing of the property, said 11 serious bidders came forward after the Pernicano's site was placed up for sale in September 2014. That list was later narrowed to three and subsequently the current prospective buyer.
Savory, who has represented clients in Hillcrest for several years, said the interest from multiple bidders reflects rising attention among investors in a neighborhood where there are few sites available for new construction and where turnover is infrequent for established properties in desired locations.
Other local brokers concur, pointing to several Hillcrest properties — including office, retail and apartment buildings — that recently changed hands at hefty prices.
Since late April alone, the deals have included a Fifth Avenue medical office building and two adjacent lots that sold for $18.5 million; a 58-unit apartment building on University Avenue that sold for $13.7 million; a 7,125-square-foot, multitenant retail property on University that went for $3.83 million; and an 11,893-square-foot retail building on Fifth Avenue that sold for $2.38 million.
Located northwest of Balboa Park, Hillcrest has long been home to young residents and others drawn to its restaurant and night-life scene. It is also among the city's major health care employment hubs, with hospitals and other medical facilities operated by providers including Scripps Health and UC San Diego Health System.
The neighborhood attracts retail stores, restaurants and other types of businesses looking to serve residents who often prefer walking, biking and mass transit over driving. One result is that rents have been rising, spurring some off-market transactions and creating multiple-bid situations when buildings do hit the market.
"It's very tough right now to find properties available in Hillcrest," said Richard Lebert, a senior vice president with Colliers International in San Diego who handled the University Avenue retail deal with Colliers' Matt Zimsky, on behalf of the buyer. That multitenant building, constructed in 1989, was fully leased by six stores and restaurants at the time of sale.
Brokers said Hillcrest's profile has been steadily rising in recent months largely because of its central location and its longtime appeal to younger residents.
"A lot of it is being driven by the millennials — generally the 35-and-under group," said broker Tyler Sinks, a multifamily advisor in the San Diego office of Cushman & Wakefield Inc. Sinks handled the recent University Avenue apartment deal with Cushman broker Kyle Pinkalla, representing the seller.
Just a few years ago, interest in that 58-unit building might have been limited to a few smaller local investors, since bigger firms have traditionally favored those with over 100 units. In the current climate, Sinks said, the University Avenue property attracted interest from several private and institutional investors from inside and outside the local region.
Properties in places such as Hillcrest and neighboring Bankers Hill have recently been attracting 10 or more bidders. With historically low interest rates for property financing not expected to go much higher in the near future, Sinks anticipates that current bidder trends will continue for at least the next 12 to 18 months.