FINANCE: UNCERTAINTIES OF CURRENCY KEEP OTHERS AWAY
Bank Bucks Trend With Bitcoin Service
Friday, June 19, 2015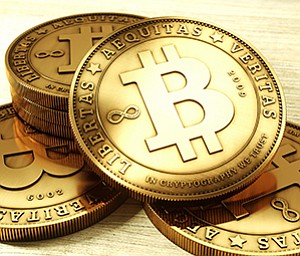 Few banks do business with Bitcoin and other digital currency firms, and even fewer make those relationships public.
Banks face a still-developing patchwork of state Bitcoin regulations and are wary of the perceived risk associated with doing business with money transmitters, a term for businesses that offer money orders and other ways to send funds from one person to another. Federal regulators have put Bitcoin exchanges under that classification.
But San Diego's Silvergate Bank has slowly built up a group of 15 to 20 clients running Bitcoin exchanges, or wallets, over the past year, sensing a chance to carve out a space that bigger banks are afraid of.
While banks are warming up to the technology underpinning the cryptocurrency, most are still hesitant to set up accounts for Bitcoin companies. Those that do may charge high monthly fees for even basic features, such as a checking account. Silicon Valley Bank is the most prominent bank accepting Bitcoin customers, but few others besides Silvergate have followed.
"I don't fault anybody for not seeing a niche opportunity," Silvergate CEO Alan Lane said. "There's plenty of business just staying within the guardrails. But that's where it's most competitive and hardest to make money."
Silvergate isn't advertising its openness to Bitcoin companies or posting about the cryptocurrency on its website, but it's not trying to hide the new business, Lane said.
'Coin Collectors
Proponents say Bitcoin, a digital currency that debuted in 2009, allows users to make payments easily across borders and with greater anonymity than credit cards. A public listing of all past transactions, called the blockchain, also allows payments to be verified quickly and frees Bitcoin from relying on a central bank.
But Bitcoin's volatility, potential regulatory risk and use by black market marketplaces have pushed most banks away.
Lane recounted a 2013 meeting of the California Bankers Association where California Department of Business Oversight Commissioner Jan Lynn Owen rattled off a list of issues she was considering, including Bitcoin. Lane, who had recently been approached by a potential Bitcoin-related client and personally owned 10 bitcoins, asked the other bankers whether they were talking with possible Bitcoin customers.
"I got mostly blank stares," Lane said. "One banker said, 'I think they should outlaw it.'"
While Bitcoin companies appear to be shunned by the banking industry, regardless of what they actually do with Bitcoins, Lane has no problem providing traditional deposit services to companies with strong compliance frameworks. Silvergate is focused on Bitcoin exchanges and wallets with low-volume, high-value transactions that aren't looking for the bank to process its payments.
"If they're looking to plug into the banking system, the payment rails, through the Silvergate Bank charter, it's not something we've done yet," he said. "We can be a repository for their U.S. dollars."
They Must Register
The U.S. Department of Treasury's Financial Crimes Enforcement Network has found Bitcoin exchanges are money transmitters and must federally register as money services businesses. The high compliance risks tied to banking any money transmitter combined with lingering public stigma associating Bitcoins with money laundering can make it hard for companies to find a good bank account, said Houman Shadab, a professor at New York Law School and a fellow at Coin Center, a Washington, D.C.-based advocacy group.
"Even with FinCEN's rules, what that means is different in each state because it doesn't necessarily mean you qualify as a money transmitter in any particular state," Shadab said. "There is still general regulatory uncertainty."
California regulators are still mulling the question. Last month, the DBO accidentally emailed a handful of reporters saying it would not require separate state licensing for Bitcoin companies and would instead work with the Legislature to craft regulations while the market develops. The DBO quickly retracted the letter and gave no time frame on when it would make a decision on its approach to Bitcoin.
"We're still assessing what approach we want to take with respect to the potential licensure and regulation of digital currency businesses," spokesman Tom Dressler said.
The Assembly passed a bill earlier this month that would require virtual currencies to get a DBO license. It is still pending in the state Senate.
Pricing Policy
While some banks charge Bitcoin companies thousands of dollars a month for simple checking accounts, Lane said Silvergate doesn't increase its fees based on the risk tied to dealing with money transmitters. He declined to share specific fees, but said the bank factors in its added due diligence work and the higher transaction volume from Bitcoin customers compared with other clients.
"If no one's doing this, we can charge whatever we want, theoretically," Lane said. "We just have not approached it that way. If this gains tractions, big banks will try to become the low-price leaders. If we have gouged our customers because we think we can, we're not endearing any type of loyalty."
That early mover advantage for Silvergate may be fading quickly. New York became the first state in the nation to issue rules for digital currency firms earlier this month, unveiling a state-issued BitLicense. The Department of Financial Services' regulations will require the state's Bitcoin exchanges to follow consumer protection and anti-money laundering rules.
Major banking players, including the New York Stock Exchange, are researching how to use blockchain technology internally. Some are even investing in Bitcoin startups. Lane said he expects Silvergate customers will soon be asking about accepting Bitcoin as payment.
"It may be that this doesn't get to be much more than 30 accounts, but the knowledge we're gaining is invaluable to Silvergate," he said.
How Does Bitcoin Work?
Bitcoin is a virtual currency without any central authority — that means you can't hold them in your hand or rely on the Federal Reserve to regulate and control them.
Instead, Bitcoins are purely digital and can be stored in software called "wallets." Every single Bitcoin transaction is stored in a ledger maintained collectively by Bitcoin users, called the blockchain. So-called Bitcoin miners receive a bounty of the currency in exchange for completing number-crunching problems that get harder as the number of miners grows. Currently, there are 14.3 million bitcoins in distribution, about 1.4 million more than last year.
To buy something with Bitcoin, users need a private key tied to their Bitcoin wallet and the public key associated with the recipient. If you initiate a purchase, details of the transaction are sent throughout a network of Bitcoin miners, who verify you have enough currency. The miners then attempt to add this latest transaction to the blockchain by creating a new block and solving a complex mathematical problem to validate the new transaction. The first successful miner gets rewarded with some newly minted Bitcoin — the only way new Bitcoins are introduced into the system — and the original transaction is complete.