MARKETING: HIGHTECH STEERING PLUS VISIBILITY HELP DELIVER THE MESSAGE
'Ad Traffic' Is Pretty Much Guaranteed With This Platform
Friday, June 19, 2015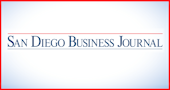 The pitch of San Diego startup Wrapify is hard to resist: get paid about $500 per month for the time spent driving to and from work, as long as you agree to cover your car in a vinyl decal advertisement. The cash could be enough to cover the month's car payment.
But Wrapify, which is part of the EvoNexus incubator, does more than pair would-be advertisers with drivers seeking easy payouts. Its key appeal to businesses is an app that tracks what routes drivers take, how long they're stuck in traffic and other demographic data.
"Wrapping is not the core of our business," CEO James Heller said. "The core is providing a technology advertising platform. The way we serve ads is through the vehicles — wrapping cars is just delivering the ads for our advertisers."
Eyes Are the Prize
Wrapify's app can identify what roads drivers use most frequently and when they drive the most. Companies get to see that information, stripped of personal information, to get a sense of how many people are seeing their ads. Wrapify charges the businesses based on how many miles are traveled, what time of day drivers are on the road and even traffic flow. Drivers get between 10 cents and $1.50 per mile, which can add up to more than $100 a week based on a daily commute of 25 miles, Heller said. The vinyl film will even protect the car's paint during the campaign, according to Heller.
Wrapify's app connects to a small device inside the car "about the size of chicken nugget," Heller said, to make sure drivers are inside the decaled car when they log on. The app runs in the background of a driver's phone and doesn't require regular input.
Heller, 28, comes from a digital marketing background, working as marketing director for data provider ScaleMatrix and the head of global digital marketing for technology distributor Ingram Micro. At both companies, Heller said he thought about creating consumer vehicle ad campaigns and scale them up from just a handful of cars.
"There wasn't a platform that allowed an advertiser to do that," he said.
Heller, along with three other co-founders, started Wrapify in February and has 1,000 drivers in San Diego, San Francisco and Atlanta waiting to join the program once it launches in mid-July. Wrapify has about seven advertisers lined up from various industries and hopes to leverage their initial runs as case studies for why others in those sectors should sign up.
Advertisers tell Wrapify where they want their message displayed and Wrapify shares the potential campaigns with drivers in those areas. Drivers choose which company they want plastered on their car, how much of their car they'd like covered and how long they want the ad to stay there, between three months and a year. Companies may set daily mileage caps, limiting how much they're willing to pay, but drivers will see those limits before they sign on. Drivers must to be at least 21, have a 2008 or newer car and a clean driving record.
There are still some details to be worked out. Businesses show Wrapify the area on a map they want their ads displayed, but what happens if drivers leave the city for a weekend getaway? In Wrapify's current beta, drivers don't get any money if they go outside a set radius.
"I can see why drivers won't like that," Heller said. "We're considering a fixed, nominal amount, like 10 to 20 cents per mile, if you drive outside. It will be set before our launch."
Vehicle decals are often seen on city buses and part of the appeal is companies know the bus will run all day on a pre-determined route. Heller said Wrapify offers advertisers more granular control over where their message gets seen.
"Swarm" Feature
"Buses are on a static route and they may or may not be going near where you want them to go," he said.
Wrapify also offers a "swarm" feature, letting companies pay drivers more if they agree to drive or park in certain locations. Heller suggested a micro-brewery might want 30 cars emblazoned with its logo to park in front of 30 local bars on the same night.
"You can't do that with a bus," Heller said.
Wrapify
CEO: James Heller
No. of local employees: 10
Investors: Undisclosed
Headquarters: San Diego
Year founded: 2015
What makes the company innovative: Wrapify's app provides detailed demographic data about its drivers to potential advertisers, and its proprietary algorithm determines payments based on distance, time of day and traffic flow.