ViaSat Becomes Board Member of San Diego Cyber Center of Excellence
Tuesday, June 16, 2015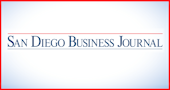 ViaSat Inc. announced it has become a board member of the San Diego Cyber Center of Excellence (CCOE), a nonprofit that fosters collaboration among companies to establish San Diego as a worldwide center for cybersecurity products and services.
Carlsbad-based ViaSat offers satellite communications products and services to the military and commercial markets.
Representing ViaSat on the San Diego CCOE Board is Jerry Goodwin, vice president of ViaSat's Secure Networking Systems division.
"With every new data breach, it becomes increasingly evident that cybersecurity is a critical issue for today's enterprises," said retired Rear Adm. Ken Slaght, co-chair and president of the San Diego Cyber Center of Excellence. "We are honored to have ViaSat join our elite roster of San Diego CCOE board members, as ViaSat brings a depth of accredited cybersecurity experience that will help us to further expand the region's knowledge in cybersecurity services, products and capabilities."
According to ViaSat, its cybersecurity services include: threat analysis, comprehensive network vulnerability assessment, cyber sensor implementation and deployment, mobile enterprise management, secure storage and hosting services, network encryption, visualization and monitoring services, and embedded security implementations.
"For decades, ViaSat has held a strong position in the cybersecurity market, helping governments and commercial enterprises worldwide operate large-scale, secure communications networks," said Goodwin. "By joining the San Diego CCOE Board of Directors we are helping to build San Diego's presence as a cybersecurity innovation hub that accelerates how organizations can deploy trusted, resilient cybersecurity systems."
As a member of CCOE, ViaSat joins a collection of cyber companies with operations in San Diego such as Qualcomm, FICO, Lockton Insurance, ESET, Sentek Global as well as SPAWAR, the U.S. Navy's Space and Naval Warfare Systems Command.