Federal Grant to Support Job Training Program for Inmates
Thursday, June 11, 2015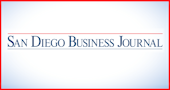 San Diego Workforce Partnership will open two career centers in a San Diego jail and a probation office, using a nearly $500,000 grant from the U.S. Department of Labor, the group said Thursday.
SDWP is partnering with the San Diego County Sheriff's and Probation Departments to put a training center in the East Mesa Re-entry Facility and a satellite center in the South County Probation Office. East Mesa used to be called a detention center but was recently renamed to reflect its added services, according to the Sheriff's Department.
San Diego's recidivism rate is 72 percent, higher than the statewide rate of 65 percent, according to a 2011 report from the California Department of Corrections.
"We are optimistic that having a career center onsite at the jail and being part of the Probation's case management team will move San Diego's recidivism rate in the right direction," SDWP CEO Peter Callstrom said. "If successful, we hope to expand and replicate the program in other facilities."
The two career centers will offer job training and employment preparation. They are expected to serve about 600 inmates and offenders.