Home Prices Climbed 5.3 Percent in April Over Last Year
Tuesday, June 2, 2015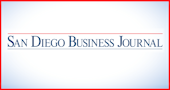 Home prices in San Diego and Carlsbad continued to climb, gaining 5.3 percent in April over the past year, according to a report Tuesday from CoreLogic, which pegged home price appreciation at 6.8 percent nationwide.
CoreLogic said the rising home values were due to extremely low interest rates, rebounding consumer confidence and "old fashion" supply and demand. It expected prices to continue to increase through the end of the year.
"For the first four months of 2015, home sales were up 9 percent compared to the same period a year ago," said Frank Nothaft, chief economist for CoreLogic. "One byproduct of the increased sales activity is rising house prices."
CoreLogic said San Diego home prices rose 1.6 percent from March to April, while national prices were up 2.7 percent from March, the 38th consecutive monthly increase. CoreLogic's figures factored in distressed sales, including short sales and real estate-owned transactions.
South Carolina saw the greatest year-over-year increase, at 11.4 percent, while Massachusetts fared the worst, with a 1.7 percent decline. California prices rose 7.1 percent.