MEDICINE: HEALTH CARE SYSTEMS ARE CREATING VC ARMS OFTEN TO INVEST IN PROMISING INNOVATIONS FOR PROVIDING CARE
Injecting Capital
Thursday, July 30, 2015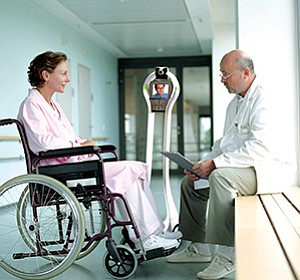 Hospital systems dealing with high-tech glitches and chaotic workflow brought on by health care reform are launching venture capital funds to fuel the solutions they need.
The Affordable Care Act inspired change in nearly every aspect of health care, but one of the most obvious — and troublesome — areas of reform was transferring medical records from paper files to computers. Electronic medical records require tremendous infrastructure, costly software, and lots of maintenance.
These changes have caused infrastructural nightmares for health care providers, and most are searching for ways to make their new, increasingly complicated world more manageable.
"With electronic medical records in almost every hospital in the country, there's a rush towards this gigantic revenue world of health care," said longtime venture capitalist Jay Lichter, managing director at Avalon Ventures LLC. "There are piles and piles of issues that haven't been sorted through yet."
Digitizing medical records opened up new avenues for innovative technology companies to make doctors more efficient and health care providers more connected with patients.
Innovation drove consumer demand, and hospitals and health care providers are suddenly competing for patients the same way cellphone providers compete for customers.
"Technology has allowed a more consumer-driven approach to health care that has typically been controlled by the payers and providers in the past," said Jean
Balgrosky, founder of Bootstrap Incubation, a business accelerator specializing in health technology startups. "Technology allows people and patients to become more engaged in their health, and this is particularly important given the rapidly increasing chronic illness in this country."
Funding Tech Solutions
To keep up with demand, many health care systems have launched venture capital arms dedicated to investing in promising health technology products and services.
Kaiser Permanente ― which has a major presence in San Diego County ― was extremely early to the trend. A corporate venture fund was founded in 1997, and to date Kaiser Permanente Ventures has invested in 55 health care, health IT, health services and medical device companies since its inception.
"As the nation's largest integrated health care organization, Kaiser Permanente has the most comprehensive health IT infrastructure ― which makes us uniquely suited to identify key areas of innovation that foster the next wave of digital health innovation," said
Rodger Dougherty, a spokesperson for KP Ventures.
Many in the industry consider health systems the ideal investors for health-
related startups.
"They've got all the physicians,
researchers and other clinicians who might be able to recognize a great new product," Balgrosky said.
Many health systems throughout the country are recognizing the opportunity. According to health care business publication Modern Healthcare, more than 40 health systems in the U.S. have developed a venture capital arm, including the prestigious Mayo Clinic, which manages a $100 million fund.
Some smaller hospitals and health systems without a dedicated venture arm are still investing in technologies they use in-house. Locally, Palomar Health has invested in multiple health technology companies, including San Diego-based Sotera Wireless. The hospital's infusion of cash helped fuel the development of Sotera's wrist-worn patient monitor, which Palomar now uses at its 288-bed facility in Escondido.
"Investing in health care innovation is critical to the growth and advancement of our organization," said Prudence August, vice president of information systems at Palomar Health. "Being part of a new innovation allows Palomar Health to be on the cutting-edge of technology and enables clinicians to participate in the future of health care."
Other than fueling the development of technologies needed in the clinic, hospital systems may be entering the investing world to diversify their revenue streams.
"Health care is going to be 20 percent of the GDP soon, and it's a segment of our economy that has been growing consistently over the last decade, even during the recession," Balgrosky said. "This is a huge area of opportunity for them."
For mega health systems such as Kaiser and the Mayo clinic, recruiting experienced investors is no problem. But some venture capitalists are unsure if all health systems are prepared to enter the investing world on their own.
The Anatomy of a Good Company
"It's always exciting to have more investors to support health care innovation, but it is also important to ensure that the investment teams have a depth of experience in how to build a company ― to take an idea and turn it into a valuable product," said Kim Kamdar, partner at the venture capital firm Domain Associates.
But health systems may have several avenues to invest in startups. By co-investing with more experienced venture capital firms, health investors can offer up their expertise without developing the infrastructure needed for a full venture arm.
"Large health systems realize that they have a problem, but they may not have the expertise to analyze companies and support them the way that venture capitalists do," Lichter said. "Instead, they could leverage those investment dollars though an investment fund."