EvoNexus Announces Application Period for Would-Be Incubators
Wednesday, July 29, 2015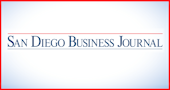 Startup companies that hope to enter the EvoNexus incubators in San Diego and Irvine should warm up their computers and get ready to pitch.
The pro-bono tech incubator program announced that its application period will open July 31 and close Aug. 31. Information on the process is available at www.evonexus.org/apply.
EvoNexus offers a stringent vetting process as well as incubator space for young companies in information technology, biotech and other emerging technologies. Unlike other incubator programs, EvoNexus does not take an equity stake in a company in exchange for services.
More information is available on the EvoNexus website, including times and places for open houses scheduled for San Diego on Aug. 4 and Aug. 19.
Companies making successful exits from EvoNexus include ecoATM, Edico Genome and Fatskunk. The incubator has 105 companies in its portfolio.