PROPERTY: ITS PROJECTS INCLUDE THE BLOCK, WITH MULTIPLE PRICE POINTS
Zephyr Is Well Positioned for a Condominium Comeback
Thursday, July 23, 2015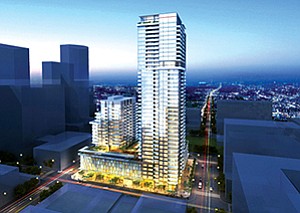 Developer Zephyr Partners is counting on an ample supply of investment capital, along with emerging signs of life in the long-moribund for-sale condominium market, as it launches some big-ticket projects in the local market.
The company recently sold the first 10 of 60 luxury condominiums planned at The Park, its $100 million development where construction began earlier this year in San Diego's Bankers Hill neighborhood.
Encinitas-based Zephyr recently closed a $50 million purchase of a nine-acre parcel in Dana Point, where co-CEO Brad Termini said the company plans to develop a $115 million mixed-use project that includes 168 high-end townhomes. That will be the seven-year-old company's first foray into Orange County.
The company's largest current project, a $250 million mixed-use condo project with 600 residential units currently known as The Block, would take up a full city block off Broadway in downtown San Diego and is under review by city officials.
Termini said the downtown project differs from the other two developments — as well as most of downtown's for-sale condo offerings of the past decade — on at least one significant variable. Instead of having only high-end luxury offerings, The Block is expected to include condos at multiple price points in an effort to attract buyers at various income levels.
"We think there's room in the market this time for different kinds of product for all of the different demographics — millennials, baby boomers and others," Termini said.
The company may be helped in that multiple-price quest by the relatively low price — $21.1 million — that it paid last year for the 60,000-square-foot downtown site where The Block is slated to be built. The project involves demolition of several older and underused commercial buildings, in an area between the Gaslamp Quarter and the core central financial district.
Termini said the location eventually should be able to benefit from the continued influx of new residents into downtown, including under-35 millennials, retiring and empty-nest baby boomers and others looking to downsize their suburban living arrangements for life in an urban environment.
So far, the influx has been reflected primarily in the form of continued new development of rental apartments, especially in East Village. Downtown's condo development market, especially near the waterfront, boomed between 2002 and 2006.
However, downtown hadn't seen a major condo project break ground in nearly eight years before Vancouver-based Bosa Development began work earlier this year on a luxury condo tower with 232 units at Broadway and Pacific Highway. Bosa also announced plans for a twin to that tower slated for a nearby parcel.
Russ Valone, president of consulting and research firm MarketPointe Realty Advisors in San Diego, said construction of midpriced — generally under $1 million — condos remains a challenge in markets like San Diego, where there are high barriers to entry. Those include land prices, development fees and regulations that can significantly add to the cost of projects, making it necessary for units to be priced higher to recover those costs.
Valone said condo projects are now starting to break through, after developers faced nearly a decade of obstacles getting lender assistance for high-density, for-sale residential units. In the current economy, numerous lenders and investors are now flocking to participate in projects, and the trend is slowly moving beyond apartments into condo projects in select locations.
If the local for-sale market continues to improve, downtown San Diego could see some existing apartment projects — including some still in the pipeline — reconfigured to favor condos.
"What you might watch for is what happens with some of those projects that were originally going to be condos but wound up being developed as apartments over the last few years," Valone said. "Now you might see some of those start to be converted to for-sale condos."
Also, Valone said recent buying patterns, in developments such as Sudberry Properties' Civita in Mission Valley, suggest that consumers in various demographic groups are warming to attached for-sale housing if the mixed-use surroundings are otherwise to their liking.
Termini said most of the recent buyers at The Park, near Balboa Park — where Zephyr's condo units are priced starting at around $1.4 million — have been baby boomers 50 and older.
In downtown, the company is betting that residential building is ready to move beyond apartments.