LEGAL: IN CALIFORNIA, IT'S LET THE BUSINESS BEWARE AS LABOR LAW LANDSCAPE GETS MORE TRICKY TO NAVIGATE
Fertile Grounds For A Lawsuit
Thursday, July 23, 2015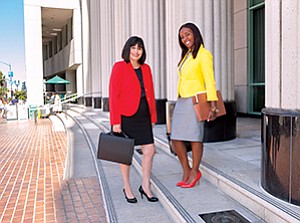 California's new paid sick leave law is being welcomed by labor interests, but attorneys say it is likely to add fuel to the trend of employees suing businesses over wage and hour issues.

"This law really is impacting smaller employers," said employment law attorney Adriana Cara of Cara & Garland APLC. "It is the smaller employers who are going to feel it (most), because it is a mandatory benefit that must be provided to full-, part-time, and even temporary employees."
An estimated 6.5 million Californians became eligible for paid sick leave for the first time on July 1. The Healthy Workplaces, Healthy Families Act of 2014 guarantees up to three days of paid sick leave for all people who work for 30 or more days within a year of being hired. They can start taking paid sick leave after having worked for a business 90 days.
Labor Friendly Laws
The sick leave law is only the latest in a series of California laws designed to protect employees, said Cara, who advises companies on such issues as hiring and firing practices, discipline, discrimination, and wage and hour laws.
Because the state has implemented many labor friendly laws, workers here are more willing to take their employers to court, particularly if they have been laid off and face financial hardships, she said.
Labor and employment issues are especially concerning in San Diego's core industries of health care, life science and technology. Those sectors face labor and employment litigation at about twice the rate of overall business, according to Norton Rose Fulbright's 2015 Litigation Trends Annual Survey.
There are so many laws protecting California workers that "chances are an employer is going to violate at least one of these laws unknowingly,"Cara said."You have plaintiff attorney websites that advertise all the violations an employer might commit."
Since the recession began in 2008, business has improved for many companies. However, that recovery hasn't had much impact on wages for rank and file workers. Nationwide, hiring is strong, but low wages have failed to pull millions of unemployed workers back into the labor force.
Attorney Sandra L. McDonough, a partner at Paul, Plevin,Sullivan & Connaughton LLP, specializes in representing businesses in employment litigation cases. She has noticed an increase in lawsuits aimed at employers.
'Steady Stream' of Lawsuits
"There has been a steady stream of cases," she said. "I think the economy has had a significant impact. When people are out of work and don't have income, they consider the possibility of a lawsuit in order to bridge the gap between employment. There has been an increase in the number of attorneys representing employees."
Like Cara, McDonough said California's pro-labor stance has created many opportunities for workers to litigate. One of the milestone laws was the Private Attorney General's Act (PAGA) of 2004.
Under that law, an employee may act as a "private attorney general" if he or she informs the California Labor & Workforce Development Agency of an alleged violations and the agency declines to pursue the complaint. The employee then may seek civil penalties not only for violations that he or she has suffered but also for violations experienced by other workers.
Jack B. Hamlin, an associate professor in the School of Professional Studies at National University, said the trend toward providing more legal remedies for aggrieved workers goes back decades in both Congress and the California Legislature.
"Think back to the Civil Rights Act of 1964," he said. "Prior to that you could say to someone 'I am firing you because you are black or you are woman.'"
Hamlin said lawmakers since have broadened labor laws to offer a wide range of protections. This has placed workers and employers on more of an even playing field.
"What we have created is equilibrium between the employer and the employee," he said.
Kinder, Gentler Layoff
Hamlin said some lawsuits could be avoided if businesses changed the way they dismissed workers. Lawyers often advise businesses that the best way to terminate an employee is simply to say they are no longer needed, without offering an explanation, he said.
While the goal is not to give workers grounds for wrongful termination lawsuits, this strategy often backfires, he said. When someone loses his or her job, the attitude toward their former employer begins to change, especially if that person feels they were not appreciated or they were treated unfairly.
Another cause of lawsuits against employers is the large number of attorneys who are practicing labor law in California, he said. These attorneys have an interest in convincing disgruntled workers to file lawsuits.
Cara agreed that many workers are steered into court by plaintiff attorneys. She recommends that employers create written policies for their managers to make sure they are complying with labor laws.
"An employee may go to an attorney for something different and the attorney may ask, 'How are you classified as an employee?' or 'Did you receive all of your meal and rest breaks?' "she said. "Employers need to be very meticulous about how employees take those breaks."