Tom Gruber Named New CEO at MyDx Inc.
Friday, July 17, 2015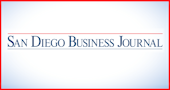 MyDx Inc., creator of a hand-held chemical analyzer for consumers, has appointed Tom Gruber as the new chief executive officer effective July 10, 2015.
Gruber is currently the company's chief financial officer and chief operating officer and will continue to serve on MyDx's board of directors as board secretary. Gruber brings more than 20 years of financial and senior executive management experience, having served as CFO of Western Digital, as well as president and CFO of nStor Technologies Inc.
"The vision of enabling consumers with the ability to measure and analyze chemicals of interest in their own homes for the first time in history was very compelling to me," Gruber said. "I am excited to move MyDx forward as the leader in consumer sensing technologies enabling anyone to understand more about what they eat, drink and inhale."
Gruber succeeds Daniel Yazbeck, who founded MyDx in 2013 and seeded the initial capital and resources to drive the company's vision from concept to implementation. Yazbeck will continue to serve as the chairman of the board of directors and has been appointed as chief innovation officer to help advance the company's new applications and next-generation technologies.
"With the help of my team during my time as CEO, we successfully created and launched our first product, established a brand, and became a publicly traded company," said Yazbeck. "Tom has the full support of the executive management team as well as the board of directors, and I am grateful and excited to see MyDx continue to grow under his leadership."