SPORT: STADIUM SAID TO NEED A PRO TEAM TO BE VIABLE VENUE
Aztecs, Bowl Games May Need New Home if Chargers Bolt
Thursday, July 16, 2015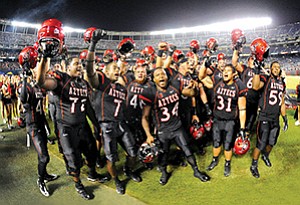 The conversation over San Diego football in Mission Valley and a replacement for the aging Qualcomm Stadium has naturally focused on how to keep the Chargers in town.
But the fate of San Diego State University's Aztecs and the annual Holiday and Poinsettia bowl games also are bound up with the NFL team, leaving them in a potential search for a new venue if the Chargers bolt.
The Aztecs have played their home games at Qualcomm since the stadium was built in 1967, and have a current use agreement with the city through 2018. The San Diego Bowl Game Association organizes both bowl games, and its current contract with the city runs out this winter.
SDSU Status
While their agreement allows SDSU to seek "primary tenant status" from the city if the Charges leave Qualcomm, the term doesn't have any special meaning.
"It simply means SDSU could attempt to negotiate an agreement with the city to take the Chargers' place as the primary tenant at Qualcomm," city spokeswoman Lynda Pfeifer said.
Under the current deal, SDSU reimburses the city for game day operating costs and passes along a $1 per ticket surcharge. Since 2010, the city has received $529,140 in surcharge revenue, far below the $3 million in rent the Chargers are supposed to pay each year. But there aren't specific provisions in the deal for what happens if the Chargers leave San Diego or if the city decides to hand off the land to developers.
"There is no other document addressing what SDSU can do if the city sells the land or if future development makes the stadium unusable for a period of time," Pfeifer said.
If a new major tenant steps in at Qualcomm, or whatever new stadium gets built in Mission Valley, it's likely the Aztecs will continue to play there. But without that, it's unclear where SDSU might go. The school declined to answer specific questions but emphasized its contract through the 2018 season.
The Numbers Game
"No matter what, SDSU is committed to playing Division I football," spokeswoman Beth Downing Chee said.
Staying a Division I team, however, means SDSU will need an average attendance of at least 15,000 per game once every other year, according to NCAA rules. At the 72,000-seat Qualcomm, the Aztecs average about 32,000 spectators per game last year.
There are no other available stadiums in San Diego with enough seats to accommodate those crowds. The Padres said Petco Park, with its 42,000 seats, cannot be used for football under their agreement with the city. The University of California, San Diego's RIMAC Field, a former training camp for the Chargers, has no room to accommodate major crowds. Torero Stadium at the University of San Diego only seats 6,000. The Valley View Casino Center and SDSU's own Viejas Arena each seat about 12,000 and are only equipped for arena football, which uses a much smaller field.
SDSU could potentially use Torero Stadium for a year, as it only needs to meet the NCAA's attendance minimum every two years. But USD said neither school would comment on that possibility.
SDSU said it has viable alternatives in case it can't use Qualcomm, though it wouldn't detail those plans. President Elliot Hirshman spoke with the Citizens' Stadium Advisory Council during their planning, but CSAG said the discussions centered on whether SDSU would be a continuing tenant at a new stadium. Hirshman was "very enthusiastic," CSAG member Walt Ekard said.
Bowl Games in Limbo
Minus the Chargers, the future of the bowl games in San Diego also is murky. The SDBGA's current contract with the city runs out this winter, and the group has been in negotiations for months on a three-year lease extension through 2018.
SDGBA President Mark Neville said the talks are still in progress, adding it was too early to talk about contingency plans if the Chargers leave.
"We're monitoring the situation just like everybody else is," Neville said. "There's so much more that will materialize over the coming months and, really, years."
If the city decides to abandon Qualcomm without a major tenant, the Bowl games will be in a similar situation as the Aztecs: there are no other local venues with enough capacity to hold its crowds. The Holiday Bowl attracted 55,789 fans last year, while the Poinsettia Bowl drew 33,077.
Both postseason games have always been held at Qualcomm.
Moving the Holiday and Poinsettia Bowls could put a dent in the county economy. A little less than half of the combined attendance last year came from outside the county for the games. A study from the San Diego State University Center for Hospitality and Tourism Research pegged the economic impact of last year's games at $35.3 million, up almost $5 million from 2013.
Pro Football or Wrecking Ball?
But without the Chargers at Qualcomm or another professional team, Aztec supporters are doubtful whether the city would even hold onto the 166-acre parcel.
"I don't think Qualcomm in its current configuration would pencil out, to only play a handful of college football games there each year," said Sen. Marty Block, D-San Diego. "I don't think the city would keep it as-is there without a major tenant."
Block, whose district includes SDSU, has been quietly advocating for the city to sell the Qualcomm site to the university instead of private developers. SDSU could create a second campus there with a new Aztec football stadium just three trolley stops away from the Mesa, the current campus. As chair of the Senate Education Budget Subcommittee he could help obtain state funds.
Block, a former dean, professor and legal advisor at SDSU, said the school is in dire need of more space and the Mission Valley location would accommodate new classrooms, dorms and faculty housing. Because of the trolley connection, the Qualcomm site could be an "automobile-free zone," Block said, increasing possible density and cutting down on environmental impacts.
Block cautioned he hasn't rigorously studied the idea and that it was essentially a pipe dream, but said the California State University system had some capital funds available. He also suggested SDSU could partner with a major league soccer team to build a much smaller stadium in Mission Valley, with about 35,000 seats. Block has spoken with the university about the idea but declined to detail their discussions.
"We know SDSU has outgrown its campus," Block said. "What makes this work is the trolley. It's at least something to seriously consider when the time is right."
A Campus Setting in the Valley
Others have also pushed SDSU as a possible buyer if the Chargers leave the city with a dilapidated Qualcomm Stadium and no immediate prospects for a replacement team. Steve Peace, a former state legislator and senior adviser to former Padres owner John Moores, claims the only kind of development that can maximize the Qualcomm site is education-based.
"The university is also the user, not just the developer," Peace said. "You can say, 'you're going to live here or work here and you're not going to have a car.' There would be dramatically less land dedicated to roadways and parking."
Referring to JMI Realty, Moores' real estate company that developed Petco Park, Peace added, "No private developer, including JMI, can remotely compete with that capacity."
Peace is an adviser to UCSD's Scripps Institution of Oceanography and said he was attracted to the idea after Scripps expressed interest in developing a San Diego River monitoring site with SDSU at Qualcomm. Peace soon thought about using that to launch a new university center in Mission Valley with classrooms, research laboratories, housing and a public park near the river. According to Peace, then-Mayor Jerry Sanders suggested the idea several years ago to SDSU.
Without a new stadium in Mission Valley, Peace isn't optimistic the Aztecs could easily find a new home with enough seats to keep their Division I status.
"SDSU can pursue a sports stadium with 35,000 seats in Mission Valley, with multiple uses," Peace said. "In the event that doesn't happen and the Chargers are gone, SDSU is going to have to look on the Mesa. But that's going to be tough based on their space constraints."