WHAT PRICE WOULD S.D. PAY IF THE CHARGERS LEAVE TOWN?
The Aftermath
Thursday, July 16, 2015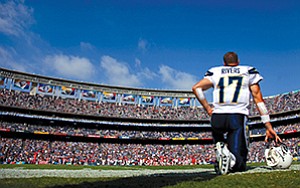 San Diego native Rafael Alvarez remembers coming across a homeless person in Barrio Logan a few years back, and recalls that despite having a hard life, the man proudly sported a San Diego Chargers cap.
"I remember being struck by the question of how do you define something that's become part of the fabric of the community?" said Alvarez, 50, one of four founders in 1992 of the fan group now known as Bolt Pride, which boasts 9,000 members in 40 countries.
"On a civic-pride level, what else really connects us as a community, what connects all these people from these different socio-economic levels and ages and generations?" said Alvarez, adding that the loss of the Chargers — potentially to Los Angeles — would be felt not only by long-time diehard loyalists such as himself, but also his 23-year-old daughter and many younger fans down the road.
At a time when social media increasingly isolates people into smaller groups, few things have the power of pro sports — the NFL being the most powerful at the moment — to bring people together in real places in real time for several months at a time, be it in their homes or the local pub or sports bar.
"How do you determine a monetary value for that?" Alvarez asked rhetorically. "Because it's really a big part of being in what we call America's Finest City. It's a big part of how people from other places view San Diego."
The potential cost of keeping the Chargers in San Diego — a proposed $1.1 billion Mission Valley stadium that would be funded through various sources — has been well publicized and remains the central hope of avid Bolts backers looking to avoid a painful separation.
Harder to pin down is the exact financial impact on the local region if the Chargers do indeed leave town. While benefits such as civic pride and the chance to showcase San Diego on national TV to shivering East Coasters during winter are no-brainers, nobody apparently has ever calculated the full composite dollar value of having an NFL team playing here, let alone the exact cost of having one depart.
Here are some observers' best guesses, along with some data that does exist, on the potential business impacts of a post-Chargers climate if the team follows through on its desire to relocate and the NFL gives its blessing.
Regional Economic Impact
"The best research out there has shown no positive or negative impact on employment or spending when a team leaves town," said Erik Bruvold, president of the National University System Institute for Policy Research in San Diego.
From what researchers have been able to gather, he said, the short-term impact on a region's economy is on par with what would happen if a popular, moderately sized department store chain shut down or moved elsewhere. Despite more than 40 years of pro teams either leaving or threatening to leave cities throughout the U.S., there is little long-term data on consumer spending or job creation in cases where teams have actually pulled the trigger on a relocation.
However, there have been numerous attempts to quantify the regional economic impacts of a pro sports team's exit. Last year, for instance, the University of Kentucky's (UK) Martin School for Public Policy Administration released the results of an analysis of past studies that itself sought to measure the regional effects on per-capita income and employment levels.
The analysis measured those variables for the three years preceding and three years following the departure of NFL, MLB and NBA teams, which happened during the past 40 years and involved 14 relocations in 13 U.S. cities.
The UK analysis found no discernible impacts that could be traced directly to team relocations. Among the reasons is that owners and players often don't spend their high salaries within their host cities. Researchers cited one study noting that only 29 percent of NBA players reside in the city where they play, and that low figure is typical of other major sports leagues.
Because many of the stadium jobs created by sports teams are generally low-paying, those workers are often able to find similar jobs elsewhere with similar pay after a team leaves. (Higher-paid front-office and administrative workers most often follow their teams to their new city, limiting their addition to unemployment rolls, researchers said.)
Consumer spending on game tickets, along with purchases at stores, bars and restaurants tied to the departed sports team, usually shift in equal amounts to other discretionary entertainment spending, meaning the communitywide impact of the relocation is negligible.
On the consumer side, Bruvold surmises that many San Diego County fans now buying Chargers game tickets, caps and jerseys — along with beers and burgers at local sports bars — would find somewhere else to spend their money. And if about a quarter of the Chargers' existing fan base is already in Orange and Los Angeles counties, as the team contends, some of that spending might just move northward, continuing to benefit Southern California if not San Diego.
The NFL doesn't break down its revenue streams by team or city, but ESPN reported that the league's 32 teams evenly split $6 billion in revenue in the 2013 season. The NFL posted nearly $10 billion in 2014 total revenue and has projected $12 billion for 2015.
When the Chargers and their employees are no longer based here and spending some of that cash, that will have some impact on local businesses year-round, along with several charities that the Chargers support. According to its website, the Chargers Community Foundation, founded in 1995 by owner Alex Spanos, last year passed the $4 million mark in providing assistance to area students through school-based programs, as it awarded its 100th local school grant. The foundation also supports programs of organizations including Make-A-Wish San Diego, Rady Children's Hospital and the American Cancer Society.
Stadium Revenue and Jobs
According to a municipal staff report, the city-owned Qualcomm Stadium generated $16.5 million in revenue in fiscal 2015 while spurring $17.8 million in expenditures. The net loss is even bigger when capital improvement costs are figured in — $750,000 annually, or $3.7 million total for the next five fiscal years.
The stadium financing plan recently issued by the Citizens' Stadium Advisory Group calls for the city to boost revenue via several measures, including raising the Chargers' rent. The team paid $2.5 million in rent in 2004, which rose to $3 million in 2014 and is scheduled to rise to $4 million in 2017. However, the team's property taxes, some parking revenues and the cost of the city's suite at the stadium all count against what the Chargers actually pay in rent — the total is currently $1 million annually, according to the task force. (The city also gives the Chargers rent credits, and also pays the team annually to help settle a 2006 lawsuit related to the Americans with Disabilities Act.)
The task force overall is asking the Chargers to contribute $300 million to the cost of building a new stadium, with the NFL contributing $200 million. If the Chargers are out of the picture and the city still wants to build a new stadium or renovate the old one, other current Qualcomm Stadium tenants and future new ones would likely need to pick up more of the tab.
Numbers from the city indicate that revenue from non-Chargers events at the stadium totaled $3.1 million in fiscal 2014, down from $3.6 million the prior year. Events in 2014 included college football games, soccer matches and specialty gatherings such as Monster Jam, Supercross and auto and RV shows.
If the Chargers depart and the city decides to tear down the stadium and replace it with other types of development, and no stadium is built downtown or elsewhere, more than 800 stadium jobs could be directly impacted. According to a filing with the state earlier this year, the city's former food-service operator at the stadium, Centerplate, employed 831 at the Mission Valley venue. (Centerplate's contract recently expired and it was replaced by Delaware North).
In addition, the city employs 37 full-time workers at the stadium, including building and maintenance supervisors and other facilities managers. Personnel costs totaled $3.4 million in fiscal 2015.
Commercial Development
If the mayor's stadium task force is correct in its projection that selling 75 acres at the current Qualcomm Stadium site to commercial developers would raise $225 million toward the cost of a new stadium, the proceeds would be considerably more if the entire 166-acre site were put to use for projects that have long been discussed, including apartments and condos, stores and offices.
Regardless of how much of the site gets used for nonstadium purposes, observers say the city would have no problems drawing proposals from developers and interest from future residents and commercial tenants. That's provided that zoning and other ongoing Mission Valley community planning concerns are properly addressed.
Richard Gonor, executive vice president in the San Diego office of brokerage company JLL, said the public has already voiced its support for transit-friendly, mixed-use development in Mission Valley, judging by strong sales and leasing trends at places such as Sudberry Properties' ongoing Civita development.
Businesses are also clamoring to boost their presence in Mission Valley because of its location near San Diego's geographic center. Mission Valley has long been among the city's tightest office markets, with vacancy rates in the single digits and just two buildings currently able to accommodate requests for 20,000 square feet or higher.
"The freeway access, the access to the nearby retail and the parking availability are the main things that are leading businesses to want to locate there," Gonor said, noting that Mission Valley is increasingly drawing interest from tenants in industries including defense, insurance and other financial services.
Less on everyone's radar at the moment is the potential fate of the two-story building owned by the Chargers and housing its administrative offices and practice facilities on Murphy Canyon Road in Kearny Mesa.
Because Kearny Mesa is also a tight office market, the building would likely not sit empty for long if the Chargers depart. Provided that another sports-related organization needing a practice field doesn't take the Chargers' place, Gonor predicted the 69,000-square-foot building — constructed in 1998 — would likely be replaced by an office building with more modern amenities, or by a hotel or other businesses serving the surrounding office neighborhood.
Branding and Exposure
Community pride and regional reputation benefits are among those most frequently cited when counting the ways in which professional sports teams boost a region, but also among the most difficult to fully quantify when they're no longer in town.
The granddaddy of all media exposure events is the NFL's Super Bowl. San Diego has hosted three of them — in 1988, 1998 and 2003 — and likely would not get another opportunity if it is no longer an NFL city.
Local tourism and convention officials estimated that the 1998 game drew 3,500 international media members to the region and generated $295 million in economic impact, including spending at hotels, stores, restaurants and other attractions.
But San Diego's tourism economy has long been built on several pillars beyond sports, including year-round pleasant weather, an abundance of beaches and globally known attractions such as the San Diego Zoo.
Susan Bruinzeel, senior director of planning and research for the San Diego Tourism Authority, said about 7 percent of the region's more than 30 million annual visitors are known to attend a sporting event. But that includes all sporting events — not just Charger games.
"San Diego receives name recognition (reminders to consumers) and also receives some media value if the broadcasters are talking about San Diego weather and beauty and they show destination beauty shots on TV," Bruinzeel said in an email. "However, I don't have data that shows the true economic impact of the Chargers on the tourism economy."
According to numbers compiled by ESPN, a total of 523,457 locals and visitors attended Chargers home games at Qualcomm Stadium in 2014 — ranking the team 22nd among the NFL's 32 franchises.
In the end, said National University's Bruvold, San Diego's residential and business community will decide the toll that life without the Chargers takes on the region's economy and morale.
"The ultimate expression of what this team means to the city in terms of psychic and other value would be an actual vote by the people on a stadium plan," he said.
However, a public vote is among several issues now up in the air, as the city looks to get the Chargers back to the negotiating table, while counting on some help from the NFL when team owners meet in August.