ImageWare Systems Licenses Technology to Lockheed Martin
Wednesday, July 15, 2015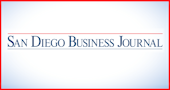 A small Rancho Bernardo tech company said on July 14 that it has licensed certain biometric technology to defense contracting giant Lockheed Martin Corp.
ImageWare Systems Inc. signed a three-year license agreement for its patented technology. Terms of the deal were not disclosed.
Under the deal, ImageWare will integrate its patented Biometric Engine into IDHaystack, Lockheed Martin's cloud-based biometric product. Lockheed Martin is expected to offer the ImageWare technology to its federal government customer.
A Lockheed Martin representative described IDHaystack as "an innovative new way to offer open back end storage and matching capabilities to support virtually any biometric-enabled operation using one or more customer-selected algorithms for common as well as advanced biometrics."
Shares of ImageWare trade over the counter with the symbol IWSY, and closed July 15 at $1.80. The business reported a net loss of $7.99 million on revenue of $4.16 million in 2014. In 2013, it reported a net loss of $9.9 million on revenue of $5.3 million.
Jim Miller, a former executive with Oak Industries, is ImageWare's chairman and CEO.
Lockheed Martin (NYSE: LMT) reported $45.6 billion in revenue in 2014. Also on July 14, the Pentagon awarded the big contractor's Fort Worth, Texas office $819.6 million worth of work on the F-35 Joint Strike Fighter.