Tech Coast Angels Set July 24 Deadline for Quick Pitch Contest
Tuesday, July 14, 2015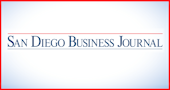 Tech Coast Angels have set a July 24 deadline to apply for the organization's 9th annual John G. Watson Quick Pitch contest. The contest — open to technology, life science and other sector startups — comes with the chance to win $20,000 in cash and prizes.
Finalists in the contest get the chance to send an executive team to give a two-minute pitch on their business in front of 500 attendees as well as an all-star panel of judges on Oct. 1 at Irwin M. Jacobs Hall at Qualcomm Inc. headquarters in San Diego.
There will be 10 finalists.
"Our goal is to foster the entrepreneurial spirit and promote investment opportunities that show potential for significant growth," said Jeff Draa, president of the Tech Coast Angels San Diego network.
For more information, visit TechCoastAngels.com. Contest details are at http://bit.ly/1K6k4Hv.