Biotech Veterans Raise $4.2 Million in Debt Financing
Monday, July 13, 2015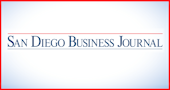 A local biopharmaceutical company founded by biotech veterans Cam Garner and Ted Schroeder has raised $4.2 million in debt financing, according to a recent filing with the Securities and Exchange Commission.
Zavante Therapeutics, a clinical-stage company focused on antibacterial agents to treat serious infections, filed regulatory paperwork listing Schroeder and Garner as executive officers along with San Diego biotech exec Cam Gallagher.
Hybritech alum Garner was CEO of San Diego's Dura Pharmaceuticals for a decade in the '90s, leading the so-called specialty pharma before the business model came into vogue. In 2000, Dura was sold to Irish drugmaker Elan Corp. in a stock deal worth $1.8 billion.
Since Dura, Garner has gone on to found or be an early investor in several local specialty pharmaceutical firms, including Cadence Pharmaceuticals, Somaxon Pharmaceuticals, Evoke Pharma, Elevation Pharmaceuticals, DJ Pharma, Xcel Pharmaceuticals and Meritage Pharma.
Schroeder, Zavante's president and CEO according to the filing, also worked at Dura until it was acquired, and went on to found Cadence Pharmaceuticals in 2004 where he works as president and CEO today.