WD-40 Reports Q3 Net Income of Nearly $11M on Net Sales of $92.5M
Friday, July 10, 2015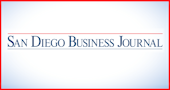 WD-40 Co. — which does a global business selling its lubricants, soaps and other chemicals — reported net income of almost $11 million on net sales of $92.5 million for its third quarter, which ended on May 31.
Overseas sales suffered with a strong dollar as well as instability in Russia and Ukraine, the company said. The San Diego business revised its forecast downward, predicting net sales of $383 million to $390 million for the fiscal year, which will end in August. Three months ago, the company predicted annual sales of $387 million to $400 million.
"Foreign currency exchange headwinds and political and economic instability in Eastern Europe continue to adversely impact and distort the true strength of our business," Garry Ridge, WD-40's CEO, said in a prepared statement.
WD-40 shares trade on the Nasdaq under the symbol WDFC. The company reported its earnings after the closing bell on July 8. Shares lost almost 7 percent of their value on July 9, but regained some lost ground the following day.
The company's new forecast for fiscal 2015 calls for flat sales to 2 percent growth.