Nominations Open for the 2015 Manufacturing Awards
Sunday, July 5, 2015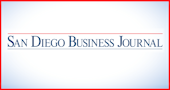 The San Diego Business Journal is now accepting nominations for the 2015 Manufacturing Awards, which honors companies and individuals within the San Diego community in the manufacturing industry. The manufacturing industry has a strong presence in our local economy and has continuously shown its dedication to our communities.
The inaugural event is slated for Thursday, September 17, 2015 and will honor the San Diego County's best leaders and companies with a prestigious awards event.
If you know a San Diego manufacturer who has made a difference in our community, nominate them today! Deadline for nominations is August 3, 2015.
Presenting sponsors are the San Diego Business Journal and McGladrey; gold sponsors are Barney & Barney, Cox Business and Wells Fargo.
To nominate online: http://www.sdbj.com/bizevents/. For additional information, contact the events department at 858.277.6359.