MEDICINE: GROUP'S STRENGTHS COULD AID HEALTH CARE MISSION
A Stronger Role for Fitness in Health Care Is ACE's Goal
Thursday, July 2, 2015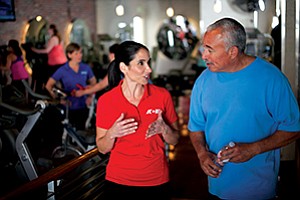 It's not often that the world of 24-hour health clubs and fitness studios intersects with the traditional health care system.
And yet recent research by PriceWaterhouseCoopers suggests that the wellness and fitness markets are drawing billions of dollars from the traditional health care market each year as consumers seek alternative options for treatment.
Despite similar goals to keep people healthy, the two worlds rarely interact.
Scott Goudeseune is hoping to change that by merging fitness with traditional health care. As president and CEO of San Diego-based American Council on Exercise, it's no surprise that Goudeseune wants to spread exercise fever.
"Today, about 15 percent of the population actively exercises," Goudeseune said. "These are the folks who have made the decision to join a health club, yoga studio or be engaged in some other program. But the real opportunity for this company to make a difference in the cost of health care is in the other 85 percent of the population."
Goudeseune believes the obesity epidemic in America is costly as well as deadly, and he's not wrong. Today, 79 million U.S. adults ― or more than one-third of the population ― are obese, according to the Journal of American Medicine. The epidemic is costing the country more than $147 billion annually.
Prescription for Exercise
The answer, Goudeseune says, is to incorporate exercise into the traditional health care system.
"One of the big opportunities everyone is gravitating toward is tying physical activity to the reimbursement model," Goudeseune said.
The idea is a physician would see a patient who has a condition such as obesity or some other lifestyle-induced chronic disease. If the doctor determines the patient would benefit from exercise, then the patient would be referred to a personal trainer, health coach or nutritional consultant.
"By working with a fitness professional, the patient would identify ways to reach their goals ― to lose weight or get some kind of disease under control," Goudeseune said. "In an ideal situation, part or all of the cost would be covered by an insurance policy."
This is where the American Council on Exercise (ACE) would benefit. ACE is the largest certifier of fitness professionals in the country, with more than 58,000 certified fitness professionals, health coaches and other allied health professionals working in over 80 countries. If insurance companies paid for patients to work with personal trainers, the organization would certainly grow.
ACE, a nonprofit with many arms at work, looks to influence health care policy though it's Advocacy Center, and Goudeseune was recently invited to speak with the President's Council on Fitness, Sports and Nutrition.
"We spoke with the president about the importance of physical activity," Goudeseune said. "This little organization in San Diego is getting attention on a national level."
The Corporate Route
ACE's goal to influence health care policy may be achievable, but it certainly has its obstacles.
"Right now, students in medical school learn little to nothing about exercise," Goudeseune said. "They're just not experts in that area."
And even if a doctor did prescribe exercise, there would be hang-ups in getting paid for that prescription.
"With insurance, you need documentation and proof of the exercise, and there's also HIPAA laws that would need to be worked through," Goudeseune said.
But there are other ways to reduce ― or even eliminate ― the obesity epidemic. ACE is targeting corporate wellness programs as a way for more Americans to have access to fitness professionals.
"All responsible CEOs want a healthy workplace, because it directly results in higher productivity and better morale," Goudeseune said.
It can also save companies money on their health insurance plans, as wellness, fitness and smoking cessation programs for employees qualify the companies for lower insurance rates.
Many companies and progressive health systems are moving toward a prevention model of health care ― staying healthy through fitness, a good diet and regular checkups rather than waiting until the disease arrives to seek treatment.
Kaiser Permanente has practiced preventative health care for years, said spokesman Rodger Dougherty.
"Sick care used to be how hospitals made money," Dougherty said. "It was fee-for-service. If the beds were full, then you're making money."
But with the new provisions of the Affordable Care Act, it no longer pays to keep sick people.
These trends bode well for the future of ACE, which expects to bring in $20.1 million from certifying fitness professionals in 2015.
"While the country is in the midst of a crisis with obesity, what's happening in Washington, D.C., around the ACA and health care policy is bringing awareness to the importance of preventative health," Goudeseune said.
ACE is working hard to be part of that conversation. The nonprofit has a mission to reduce the health care cost and eliminate the obesity epidemic by 2035, a goal that may be more easily reached due to ACE's solid revenue stream supporting all of its nonprofit initiatives.
AMERICAN COUNCIL ON EXERCISE
CEO: Scott Goudeseune
Revenue: $20.1 million forecast for 2015; $18.4 million in 2014
No. of local employees: 77
Headquarters: Kearny Mesa
Year founded: 1985
Company description: Nonprofit that certifies, educates and represents more than 58,000 fitness professionals, health coaches and allied health professionals
Key factors for success: Offering solution to obesity epidemic while potentially reducing the cost of health care