Nominations Open for the 2015 Healthcare Champions Awards
Originally published July 2, 2015 at 9:56 a.m., updated July 2, 2015 at 9:55 a.m.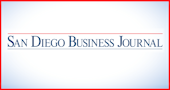 The San Diego Business Journal is now accepting nominations for the 2015 Healthcare Champions Awards, which honors individuals within the San Diego community who have demonstrated exceptional leadership and innovation in the rapidly changing healthcare industry.
The awards program is slated for Thursday, September 3, 2015 and will recognize finalists and winners in various categories, including community leader, company CEO, company executive, emergency medicine, health care educator, health care IT, nurse, physician, and wellness.
If you know a healthcare champion who demonstrates steadfast dedication and extraordinary professionalism, nominate them today! Deadline for nominations is July 20.
Gold sponsors for the program are BDO, ESET North America and Kaiser Permanente.
To nominate online: http://www.sdbj.com/bizevents/. For additional information, contact the events department at 858.277.6359.