TECH: PEREGRINE EXPECTS TO ADD ABOUT 100 POSITIONS AS NEW OWNER TAKES OVER
FLIGHT PLAN
Thursday, July 2, 2015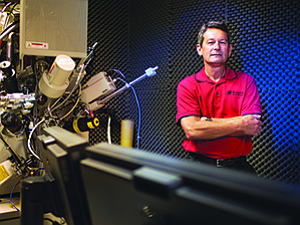 Ever since Murata Manufacturing Co. Ltd. acquired San Diego's Peregrine Semiconductor Corp., a larger portion of CEO Jim Cable's day has been spent chasing away employee anxieties.
It seems the people who work at the local chip maker have fears about their new Japanese parent company. Fears that it will strip Peregrine of its intellectual property and leave it a shell, for example. Or that the new parent will impose a dress code. Or that life is going to get a lot more bureaucratic.
They fear the worst.
Sitting at a conference table in his office, without a suit coat, Cable responded that "Murata is not a typical Japanese company."
Murata is indeed big, with fiscal 2015 sales of $8.7 billion and 51,800 employees.
But its plans, Cable says, include leaving the Peregrine brand intact, and investing in the company. Under Murata, Peregrine plans to add more than 100 new employees, a company publicist said, adding that Peregrine expects to expand its local space from its current two buildings to three.
The new parent will also show some patience by not seeking an immediate return on its investments, said Cable, who is no longer chairman of the board but continues in his role as CEO.
Murata bought publicly traded Peregrine for $471 million in December, with plans to keep the business model intact.
Following an acquisition, Murata usually lets existing management run a business, said George Chang, an analyst with Macquarie Securities.
Marriage Makes Sense
Murata's ownership may be new, but the companies' relationship is not. Murata is Peregrine's largest customer. The companies have worked together for the better part of a decade. Peregrine is one of the main suppliers for Murata's radio frequency, or RF, front-end modules.
Peregrine's specialty is a unique silicon-on-sapphire microchip. Its technology was originally developed by the U.S. Navy lab on Point Loma. Peregrine has 180 filed and pending patents.
Company products are built in to Apple Inc.'s iPhone and Samsung's Galaxy.
The marriage makes sense for Murata, Chang said.
"As a result of this acquisition, Murata will establish an integrated development system that encompasses all aspects from RF component semiconductor process development to semiconductor design, circuit design, and module design," Chang wrote. "This will enable Murata to reflect market requirements in product development more accurately and quickly and provide state-of-the-art products that meet customer needs to an even greater degree in a timely manner. Murata will also secure flexibility in supply and supply capacity, and this will provide benefits to customers."
Peregrine Semiconductor had about $160 million in revenue in 2014, Cable said, down from $202 million in 2013.
Consolidation in the Sector
The chip-making business is seeing a lot of consolidation these days. Avago Technologies Ltd. (Nasdaq: AVGO), for example, is buying Broadcom Corp. (Nasdaq: BCOM) in a $37 billion deal announced in late May. Cable said he sees lots of overlapping jobs in that marriage, and eventually job losses.
However, the union of Peregrine and Murata is different. With no competing product lines, there are "very few cost synergies to be realized," Cable said.
Though some fear that decision-making will be slow and bureaucratic under the new parent, Cable said that Murata has delegated him to make decisions. "I have to say the autonomy is phenomenal," said Cable, who joined Peregrine in 1996 and holds a doctorate in electrical and electronics engineering.
Peregrine is a fabless chip manufacturer, meaning that it outsources much of its chip production. An outside company handles the lithographic process that creates hundreds of identical chips on a wafer. Peregrine handles the "back end" of the manufacturing process in its plant north of Marine Corps Air Station Miramar; there it tests the newly created circuits and cuts the wafer into individual chips. It then applies chips to a tape on a reel, which is the way electronics manufacturers prefer to get their chips.
The Miramar plant operates 24 hours a day, seven days a week, and currently puts out 20 million chips per week.
One room at the facility has a focused ion beam machine for what Cable called "microsurgery." During a visit to the plant, the machine operator was debugging a circuit. At another point on the factory floor, Cable showed off a $20,000 piece of test equipment. Chip making is a capital intensive undertaking and "not a business for the timid," the executive said.
Bigger Slice of the Apple Pie
Peregrine's future plans include moving into a third building and putting Peregrine products in a future generation of iPhones.
Under Murata, Peregrine expects to bring a new kind of power amplifier to market. It expects no revenue from the product this year and little revenue during 2016, but growth after that, Cable said. Peregrine has offered samples of the product to prospective customers.
As for rumors of the dress code?
Those were dispelled by a high-ranking Murata executive showing up in blue jeans and a sweater, Cable recalled.