15 Companies Each Awarded $10,000 MetroConnect Prize
Wednesday, July 1, 2015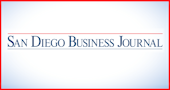 Fifteen San Diego companies received $10,000 each on Wednesday from the San Diego Regional Economic Development Corp., part of a JPMorgan Chase & Co.-backed initiative to boost the area's international exports.
The EDC's MetroConnect Prize, funded by Chase, gave the money to small and mid-sized companies seeking to reach foreign customers and investments. More than half of winners have already targeted the United Kingdom, with China, Japan, Germany, Canada and Australia also in some winners' plans. Some companies have yet to export any products, while one derives 65 percent of its revenue from foreign markets.
The winners are AirStrip, Applied Membrans, Aventyn, Bounce Composites, Cypher Genomics, Edgewave, Entra Health, IriSys, Portfolium, Robo 3D, Total Communicator Solutions, VAVi Sport & Social, Verve Mobile, VisionTree Software and Wearable Sensing. They were chosen from a pool of 64 applicants.
The MetroConnect prizes can be spent on travel to potential markets, trade show costs, setting up a foreign subsidiary, translation of marketing materials or opening a business development office abroad, among other uses. The money is set up as a matching fund, so it is not intended to completely cover any company's international expansion efforts. An additional $50,000 will be awarded as a grand prize later this year to one or two finalists.
On average, the winners employ 30 people each. The smallest third had revenues of less than $400,000 last year, while the largest third topped $13 million.