San Diego County Credit Union Assets Grew to $6.7 Billion in 2014
Friday, January 30, 2015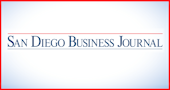 San Diego County Credit Union, the area's largest credit union, grew by about $400 million last year to bring the total assets to about $6.7 billion.
The credit union reported 2014 net income of $95.5 million, up from $90 million in 2013.
Total loans came in at $4.1 billion, compared to $3.3 billion at the end of 2013.
SDCCU said its total membership expanded to nearly 280,000, an increase of about 8 percent from the prior year.
Net worth to assets, measuring the strength of the institution's capital, was 13.45 percent, well above the 7 percent minimum level for credit unions to be considered "well-capitalized."
SDCCU's growth in membership was more than double the national average for all U.S. credit unions, the credit union said, citing industry reports.