Mayor Names Nine People to Study Football Stadium Issue
Friday, January 30, 2015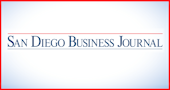 San Diego Mayor Kevin Faulconer named nine people to a citizens' stadium advisory group to figure out how to build a new home for the San Diego Chargers that would be a fair deal for taxpayers.
They are Doug Barnhart, chairman of Barnhart-Reese Construction; Rod Dammeyer, chairman of CAC, a private equity firm; Adam Day, trustee for California State University; Walt Ekard, former San Diego County chief administrative officer; Aimee Faucett, chief operating officer for the San Diego Regional Chamber of Commerce; Jason Hughes, CEO of Hughes Marino; Jessie Knight, chairman of San Diego Gas & Electric and executive vice president, Sempra Energy; Mary Lydon, executive director of the Urban Land Institute-San Diego-Tijuana; and Jim Steeg, former chief operating officer for the Chargers and former head of Super Bowl operations for the National Football League.
"We're going to have a real, tangible plan for a new stadium for the first time," Faulconer said. "San Diegans are going to be able to see it, feel it, kick the tires and, in the end, voters will have the final say."
The group is expected to determine whether a new football stadium can be built in the East Village section of downtown, or in Mission Valley where the current stadium sits. It's also charged with developing a viable financing plan for the selected location.
The group's findings and recommendations will be presented to the public in the fall. If there is broad support for the proposal, it will be slated for a citywide vote, the mayor's office said.
The Chargers have been trying to get a new stadium to replace Qualcomm Stadium, which was built in 1967, since 2002. Recent new stadiums built in other cities have cost more than $1 billion.