PROPERTY: SPACE ABSORPTION HIGHEST IT'S BEEN SINCE 2006
Manufacturing Strength Lifts Industrial Rents
Friday, January 30, 2015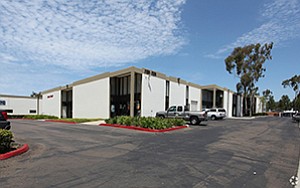 When San Diego-based Westcore Properties recently paid $17 million for a large industrial building on the grounds of March Air Reserve Base near Riverside, it was betting on continued recovery in 2015 for Southern California's overall manufacturing-and-distribution climate.
Westcore and other investment experts point to a scenario where a strengthening U.S. manufacturing economy is playing out — in San Diego County and elsewhere — in the form of rising rents and dropping vacancies at a time when new construction remains relatively muted.
"All of the primary markets are extremely healthy," said Hack Adams, senior vice president at Westcore, whose portfolio includes buildings in high-demand local submarkets such as Miramar and Sorrento Mesa. "We're bullish on Southern California right now."
The commercial brokerage company DTZ recently reported that San Diego County in the fourth quarter of 2014 saw its strongest performance in terms of industrial space absorption since the final quarter of 2006.
Researchers said the 1.1 million square feet of positive absorption — more space being filled than vacated — represented nearly half the absorption for the full 2014. The past year marked the county's fifth consecutive year of positive-trending absorption.
Big Moves
Big industrial move-ins during the fourth quarter included beer-maker Stone Brewing Co.'s filling of 129,000 square feet in Vista, defense contractor Northrop Grumman's move into 111,000 square feet in Rancho Bernardo, and Du Chateau Floors' occupancy of 70,000 square feet in Otay Mesa.
DTZ noted that all of the region's activity has translated into dropping industrial vacancy rates for 14 consecutive quarters, with the countywide rate hitting an all-time low of 5.7 percent in the fourth quarter. Big blocks of space are even tougher to find in high-demand submarkets such as Kearny Mesa (4.8 percent vacancy), Miramar (4.2 percent) and Sorrento Valley (3.7 percent).
The county's average monthly industrial asking rent now stands at $0.81 per square foot, up 3.8 percent from a year ago.
One New Project
San Diego County has just one new-construction industrial project underway — a 50,000-square-foot building in Poway that is fully pre-leased to Poway Weapons & Gear Range and scheduled for completion later this year.
Otherwise, said DTZ Senior Vice President Todd Davis, local speculative construction remains mostly at a standstill, with developers hesitant to build without committed tenants in place.
"But we expect that to change in 2015, as there are a number of new spec projects in the proposal stage," Davis said. New activity is sprouting, for instance, in North County markets Oceanside and eastern Carlsbad, where projects are expected to break ground during 2015.
Davis pointed to factors including a national economy in which domestic manufacturing is rebounding, as U.S. companies see diminishing savings from farming out production to countries like China, India and others in Asia.
"A lot of this is the result generally of more stability globally in the market," said Davis, adding that stability makes local companies more confident about long-term commitments to expanding their production capabilities.
That also means companies taking longer leases, and in some cases choosing to buy their buildings rather than rent, in order to lock in current low financing rates. In the popular submarkets, spaces available for leasing are staying on the market about half as long as they did two years ago.
"We've been advising our clients to start looking around 12 to 18 months in advance if they're planning to make a move; otherwise, their options are going to be limited," Davis said.
Among the biggest recent buyers of San Diego County industrial property is Rexford Industrial Realty Inc., a publicly traded real estate investment trust headquartered in Los Angeles. During January alone, Rexford announced it had purchased a 13-building industrial complex in Kearny Mesa for $32.3 million and a five-building industrial complex in Miramar for $18.4 million
Patrick Schlehuber, Rexford's director of acquisitions, said nationwide economic recovery in recent months has "trickled down" from large multinational corporations, to small and medium-sized companies — the categories that are predominant in San Diego County.
Favorable Factors
With increasing access to lending capital — combined with tech-enabled process efficiencies and recently tumbling fuel prices — Schlehuber said smaller firms are becoming better able to expand facilities and buy new equipment to fulfill product orders and compete for business with larger companies.
These factors have recently played out for defense, life-science, e-commerce and construction-related companies taking spaces in Rexford's portfolio, which is focused on infill properties in San Diego, Los Angeles, Orange and Ventura counties. "San Diego is very influential in the housing industry, and the companies that work in that industry are seeing more business," Schlehuber said.
At Westcore, Adams said the Inland Empire, the site of its most recent industrial deal, is currently witnessing a post-recession boom in industrial construction, especially warehousing and distribution facilities. More than 10 million square feet is being built in Riverside and San Bernardino counties by various developers in response to rising demand from industries including retailing, electronics and construction supplies. Westcore's tenants at its newly acquired, 260,000-square-foot distribution facility are retailer Ross Dress for Less and AMRO Fabricating Corp., a manufacturing infrastructure provider serving defense and aerospace clients.
Westcore is seeing rising tenant interest in existing buildings it owns in Otay Mesa, from firms including electronics makers and third-party logistics providers, and spaces it owns in Miramar are being filled out by growing craft beer makers. While new construction is not a common local sight, the seeds for building growth are being sown by current fundamentals.
"I would be very surprised if we didn't see some kind of spec development or build-to-suit activity taking place locally sometime in 2015," Adams said.