Local Economy Forecast to Continue Growing Through End of 2015
Thursday, January 29, 2015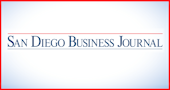 An index measuring San Diego's economy rose 1.3 percent in November, and another 0.8 percent in December, marking seven consecutive months of gains, and signaling continued growth at least through the end of this year.
The November increase was the largest monthly jump since February 2011, according to the Index of Leading Economic Indicators for San Diego County compiled by the Burnham-Moores Center for Real Estate at the University of San Diego.
Except for slight declines in the number of housing permits issued, the other five components of the index showed gains for each of the last two months. The largest increase of about 2 percent in December came from a decline in the initial claims for unemployment insurance, which is measured as a positive.
Other gains came from increases in the number of help wanted ads; a rise in the national economic index; increases to local stock prices; and improved local consumer confidence.
"With the strong uptrend in the indicators and with most of them positive, the forecast is for continued growth in the local economy at least through the end of 2015," said Alan Gin, the USD economics professor who compiles the index.
Gin forecast job growth this year to finish between 35,000 to 40,000, which will drive the seasonally adjusted unemployment rate to below 5 percent, a level most economists view as essentially full employment.
Sectors expected to do well this year are professional, scientific and technical services, health care, and leisure and hospitality, Gin said.