BofI Holding Reports Record Q2 Net Income of $19.4 Million
Thursday, January 29, 2015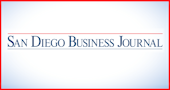 BofI Holding Inc., parent company of BofI Federal Bank, the San Diego-based online lender, reported record fiscal 2015 second-quarter net income of $19.4 million, up 47 percent from the like quarter of fiscal 2014.
The big spike in profits was the result of the bank growing its loan portfolio by 55 percent over the year, or $1.5 billion, to bring total loans to $4.3 billion.
Total assets as of Dec. 31 increased to $5.2 billion, up 45.6 percent from the like quarter of last year. That ranks BofI as the region's second-largest bank, behind only California Bank & Trust, which has $11 billion in assets.
Loan originations for the quarter were about $1 billion, up 37 percent.
CEO Greg Garrabrants said the bank's "loan pipelines are robust and we remain optimistic about our ability to generate consumer and business deposits to fund this pipeline."
The loans BofI makes are doing well. At the end of the year, it held only 0.69 percent of total assets as nonperforming.