San Diego Private Bank Posts Q4 Net Income of $734,000
Tuesday, January 27, 2015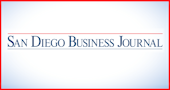 San Diego Private Bank reported 2014 fourth-quarter net income of $734,000, compared to net income of $2 million for the like quarter of 2013.
The bank, which has three branches, said nonrecurring gains taken in the 2013 fourth quarter boosted that period's profits.
For the full year, SDPB reported net income of $2.5 million, compared to net income of $3.1 million for 2013.
Not including the prior year's nonrecurring income, SDPB said its net profit for 2014 was 27 percent better than the prior year.
The bank said it grew its total loans by 44.6 percent to $332 million. Total assets increased 30.5 percent to $423.5 million.
The bank maintained strong capital ratios, with total risk-based capital at 15.26 percent, above the 10 percent level to be considered well-capitalized.
At the end of December, SDPB completed the acquisition of about $50 million in loans and $8 million in deposits from First Security Business Bank in Orange County. CEO Maria Kunac said the transaction will be accretive to earnings and the bank's stock book value this year.