Vibra Bank Reports Q4 Net Income of $600,000
Monday, January 26, 2015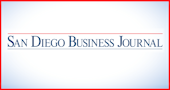 Chula Vista-based Vibra Bank reported 2014 fourth-quarter net income of $600,000, compared to $44,000 for the like quarter of 2013.
For the full year, Vibra reported net income of $931,000, compared to a net loss of $124,000 for all of 2013.
Vibra grew its revenue 5.7 percent during the year to $7.3 million, with most of that coming from increased net interest income.
Total loans decreased 16 percent to $89 million, while deposits declined 7 percent to $125 million. The bank said two large customers exited, representing $19 million in deposits and $11.5 million in loans.
Total assets declined 5.5 percent to $140 million.
Vibra's capital ratios are all well above the minimums to qualify as well-capitalized, with total risk-based capital at 20.42 percent, double the minimum required ratio.
Vibra said its merger with Los Angeles-based Pacific Commerce Bank recently received approval from the Federal Reserve Bank of San Francisco, and still needs approvals of both banks' shareholders and state regulators. The transaction is expected to close in the second quarter. Following that, Vibra CEO Frank Mercardante assumes the CEO role.