Seasonal Hiring Drops Unemployment Rate to 5.2 Percent in December
Friday, January 23, 2015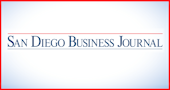 San Diego's unemployment rate fell to 5.2 percent in December from a revised 5.8 percent in November, buoyed by an increase in seasonal hiring in the retail sector.
Total nonfarm employment in San Diego increased by 600 jobs during the month to bring the total to 1,375. The largest contributors to the gain came from trade, transportation and utilities, which included 2,300 jobs in retail trade.
Five other sectors added jobs during the month: manufacturing, up 900; professional and business services, up 700; other services, up 300; information, up 300; and financial activities, up 100.
Over the full year from December 2013, the region added a net of 44,500 jobs, up 3.3 percent. The largest job-creating sector came from professional and business services, which added 15,900 jobs.
The next largest contributors to the job gains came from leisure and hospitality, up 7,000; the sector that includes retail trade, up 6,200; and educational and health services, up 4,700. Only one sector posted a net loss for the year, financial activities, which fell by 300 jobs.
The jobless rate for California on a seasonally adjusted basis declined to 7 percent from 7.3 percent in November. The national rate for December was 5.6 percent.