Solana Beach Investment Firm Promotes Three Top Staffers
Originally published January 22, 2015 at 4:46 p.m., updated January 23, 2015 at 11:30 a.m.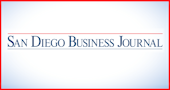 Gurtin Fixed Income Management LLC, a Solana Beach-based investment firm specializing in municipal bonds, promoted several top staffers as it grows its team.
Shandi Johnson, currently head of strategic development and marketing, was named partner. Hugo Santamaria, head of technology, was named chief technology officer, and Erik Davidson, head of finance, was named chief financial officer.
Gurtin, which managed $9.5 billion in fixed income assets as of the end of December for high net worth and ultra-high net worth individuals and families, expanded by 20 new people last year to bring the total staff to 50.