Silvergate Capital Obtains $8 Million Stock Investment
Wednesday, January 21, 2015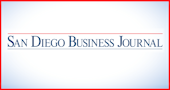 Silvergate Capital Corp., parent company to San Diego-based Silvergate Bank, obtained $8 million in a stock investment from BankCap Partners, a Dallas-based private equity firm, at the end of last year, providing funds for expanding and for repurchasing existing stock, said CEO Alan Lane.
"They approached us back in 2007, and we've continued talking with them," Lane said. "The transaction closed between Christmas and New Year's. We're going to use the money to fund our continued growth and provide liquidity to long-term shareholders."
The majority of the funds were used to repurchase shares owned by long-term investors who have been trying to cash out of their ownership for many years.
Lane didn't reveal what the stock price was on the repurchase except to say it was "a slight premium above the book value." Silvergate Capital's stock book value as of Sept. 30 was $5.62.
With their investment, BankCap Partners now owns 14 percent of the company's equity. The company's largest institutional investor is Partner RE with a 24.9 percent stake, and the largest individual investor is Chairman Dennis Frank, who is also the chairman and CEO of Silvergate Capital Corp., owning an undisclosed amount.