Seacoast Commerce Banc Reports Q4 Net Income of $830,000
Wednesday, January 21, 2015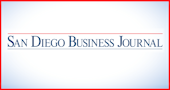 Seacoast Commerce Banc Holdings, the parent company for Seacoast Commerce Bank, reported 2014 fourth-quarter net income of $830,000, compared to net income of $251,000 for the same quarter in 2013.
For the full year, Seacoast Commerce Banc reported net income of $4.3 million, compared to net income of $1 million in 2013.
For the company's wholly-owned bank subsidiary, net income was $4.4 million, with the difference caused from the holding company's assuming certain expenses.
The bank, based in Rancho Bernardo and with three branches and 11 loan production offices, said it increased its total assets by $70 million or 20.6 percent over the year to $410 million. Gross loans, all of which are guaranteed by the U.S. Small Business Administration, hit a record $357 million, up $68 million. Deposits increased $52 million to $362 million.
Seacoast listed nonperforming loans equaling 0.66 percent of total loans or $2.3 million. Since the bank began its SBA lending program five years ago, it's funded 979 loans for $728 million. Of those loans, only three defaulted and were foreclosed on, the bank said.
Capital levels all exceed minimum standards to be considered well-capitalized with total risk-based capital at 16.08 percent.