RF Industries Completes $4.1M Acquisition of Comnet Telecom
Wednesday, January 21, 2015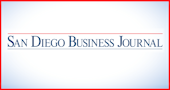 RF Industries Ltd., the San Diego maker and distributor of cable assemblies used by wireless carriers, said it completed the acquisition of Comnet Telecom Supply Inc. of New Jersey for $4.15 million.
The stock and cash purchase consisted of about $3.05 million in cash and 252,281 shares of RFI's common stock valued at $1.06 million, RFI said.
Privately-owned Comnet Telecom had annual revenue of $9.6 million for the 12-month period ended Oct. 31, 2014.
CEO Howard Hill said Comnet's growing sales will be accretive to RFI's profits and cash flow after one-time expenses related to the integration of the business.
Comnet makes and distributes equipment and cabling products used by telecom carriers, co-location center operators and other telecom and data center companies. It's based in East Brunswick, N.J.