Lytx Inc. Reports Record Growth in 2014
Tuesday, January 20, 2015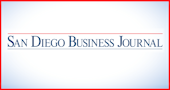 Lytx Inc., the San Diego provider of video recording services for the transportation industry, said it enjoyed a banner year in 2014, with record growth of 57,000 new subscriptions-in-service, reaching an all-time high of 200,000 SIS.
An SIS represents one vehicle using the company's video systems. It has about 1,300 clients.
The fourth quarter was the 25th consecutive quarter of double-digit growth, and last year was the third consecutive year of orders exceeding $100 million annually, the company said.
CEO Brandon Nixon said the momentum of more companies adopting video-based recording services is accelerating across most transportation segments, as demonstrated by the company's doubling of subscriptions in two years.
"It took us six years to reach the milestone of 100,000 SIS protected by our program. We provisioned the second 100,000 in less than the last two years alone," Nixon said.
Nixon said Lytx expects to continue on a growth trajectory this year, scaling up functions and adding system features to ensure it's elevating the value it offers its clients, and ultimately making roads safer.