Andrew Viterbi to be Inducted into Entrepreneur Hall of Fame
Monday, January 19, 2015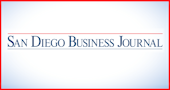 CONNECT, the San Diego nonprofit that fosters innovative technology, said it selected Andrew Viterbi, who co-founded Qualcomm Inc. and served as its first chief technical officer, for induction into its Entrepreneur Hall of Fame.
Viterbi is best known for developing a mathematical algorithm that is used in most mobile phones and satellite receivers, as well as in the fields of magnetic recording, voice recognition, and DNA sequence analysis. It was so ground-breaking, the algorithm was named after him.
Since retiring from Qualcomm, Viterbi has shifted his energies to helping fledgling engineers and communication startups through his investment firm, the Viterbi Group.
The induction and award will be held March 19 in La Jolla. He is the 13th inductee into the CONNECT Hall of Fame. The others were Irwin Jacobs, Walter Zable, Ivor Royston, William Rastetter, J. Robert Beyster, Neal and Linden Blue, Peter Preuss, Gene Ray, Ted Greene, Ron Taylor and Peter Farrell.