TVC Raises $115M for Equity Fund
Friday, January 16, 2015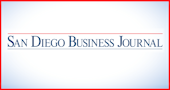 San Diego-based TVC Capital, a software-focused growth equity firm, announced the closing of TVC Capital III with $115 million in capital commitments.
According to TVC, the fund was oversubscribed and the closing took place 90 days after TVC commenced fundraising. TVC received 100 percent participation from existing institutional investors and welcomed new investors, including a university endowment, as new limited partners, the firm said.
TVC Capital III will remain focused on investments in and acquisitions of software companies that are generating $2.5 million-plus in revenue.
TVC Capital was founded by Jeb Spencer and Steve Hamerslag in 2006, and the founders continue to serve as managing partners of the firm. According to TVC, it has approximately $225 million under management.
In May of 2014, TVC announced the investment of $8 million in Seattle-based LiquidPlanner.
TVC announced a $6 million investment in San Diego-based cybersecurity company EdgeWave in July 2014, with an additional investment in EdgeWave announced in December 2014.