Obalon Announces Completion of $30 Million in Financing
Thursday, January 15, 2015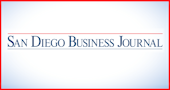 San Diego-based Obalon Therapeutics Inc., a private medical technology company, announced the completion of $30 million in financing to advance the development of their weight-loss device.
Proceeds of the new financing will be used primarily to fund U.S. clinical trials to support the U.S. Food and Drug Administration (FDA) approval of the Obalon balloon, a novel, nonsurgical, fully-reversible device for weight loss.
A new syndicate of international investors, including Axon Ventures, Bader Sultan & Bros. Co. W.L.L., Mirae Asset Venture Investment, NeoPlux Co., Ltd. and Striker Asia Opportunities Fund, participated in the $20 million Series D financing along with existing investors, Domain Associates, InterWest Partners and Okapi Venture Capital. The Series D and Square 1 Bank funding brings the total capital raised by Obalon to $65 million since its inception in 2008.
"Our new and existing investors recognize the significant potential of the Obalon balloon," said Andy Rasdal, chief executive officer of Obalon. "We look forward to executing this pivotal clinical trial, which will bring us closer to making the Obalon balloon available to people in the U.S. who seek nonsurgical weight-loss solutions."
The Obalon balloon is approved and available in the European Union, Mexico and the Middle East. It is designed to jump-start weight loss by partially filling the stomach and helping to induce a feeling of fullness to help people eat less. The patient swallows a capsule containing a balloon that is then inflated in the stomach. Additional balloons are placed to continue to facilitate weight loss, and at the end of the treatment period, the balloons are removed in a short endoscopic procedure.
The Obalon Balloon is not approved for use in the U.S. and is available for investigational use only.