Median Home Price Increases to $440,000 in December
Wednesday, January 14, 2015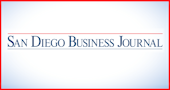 San Diego's median price for a house increased by $10,000 from November to December to $440,000. That was 4.8 percent above the median price in December 2013, according to CoreLogic Dataquick.
Residential sales in the county increased 6.2 percent over the year to 3,290 in December.
The median price for the six-county, Southern California region was $415,000, up 5.1 percent from December 2013.
The highest median sale price last month was found in Orange County at $591,000, while the lowest median priced house sold last month in the region was in Riverside at $300,000, according to the Jan. 14 report.
Andrew LePage, an analyst with CoreLogic Dataquick, said the uptick in sales was due to low mortgage rates and job growth in recent months.
"One of the big questions hanging over the housing market is whether higher demand and home values lead to a lot more people listing their homes for sale, as well as more new home construction, which remains well below average," he said.
The Southern California region's median sale price has increased on a year-over-year basis for the past 33 consecutive months, but the 5.1 percent annual increase in December was the smallest since April 2012, the report said.