Ligand Pharmaceuticals Partner's Drug Receives Orphan Designation
Monday, January 12, 2015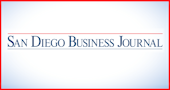 San Diego-based Ligand Pharmaceuticals Inc. announced that its partner, New York-based Retrophin Inc., has received orphan drug designation from the U.S. Food and Drug Administration for Sparsentan, a drug developed to treat scar tissue in the filtering unit of the kidney.
The scar tissue is a cause of nephrotic syndrome in children and adolescents, and an important cause of kidney failure in adults.
There are currently no therapies approved for the treatment of this scar tissue, known as focal segmental glomerulosclerosis, in the United States.
Ligand (NASDAQ: LGND) is a biopharmaceutical company that develops and acquires assets it determines will likely generate royalty revenue and profitability.