Marine Group Boat Works Receives $45M in Navy Contracts
Sunday, January 11, 2015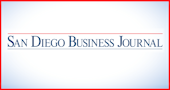 Chula Vista-based Marine Group Boat Works LLC said it recently pulled in more than $45 million in contracts to build 27 small boats for the U.S. Navy.
Marine Group said Jan. 7 that it received three contracts to build five steel tugboats, six steel work boats and 16 aluminum dive boats.
The Navy was happy with a previous order of five dive boats, said company spokeswoman Leah Yam.
In addition, Marine Group received a contract to dismantle two Avenger-class minesweeper ships, which are 224 feet long and have wooden and fiberglass hulls.
The new orders take the yard's order books "well into 2020," the business said in a statement.
Family-owned Marine Group Boat Works has yards in Chula Vista, National City and Los Cabos, Mexico.