Ceremony Celebrates Murata's Purchase of Peregrine
Wednesday, January 7, 2015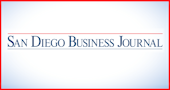 Peregrine Semiconductor Corp., the San Diego maker of chips used in wireless devices and networks and now owned by Murata Electronics North America, held an opening ceremony on Wednesday to celebrate last month's closing of the Murata acquisition.
Top officials from Murata and Peregrine CEO Jim Cable gave presentations to employees at the Peregrine headquarters office on the synergies between the two companies. Peregrine has 305 local employees.
Norio Nakajima, executive vice president of Murata, said Peregrine is joining a global family made up of more than 100 companies in 23 nations.
Murata Electronics North America acquired Peregrine in a cash deal valued at $471 million. Murata was Peregrine's largest customer and accounted for about 70 percent of the company's revenue.
Murata Manufacturing Co. Ltd of Kyoto, Japan, did about $8 billion in revenue in 2013. For the same year, Peregrine reported about $63 million in revenue.