Poway's General Atomics Awarded $43.3 Million Contract
Tuesday, January 6, 2015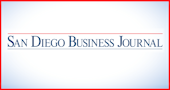 The U.S. Air Force awarded Poway's General Atomics Aeronautical Systems Inc. a $43.3 million contract to provide unspecified retrofits to an unspecified number of Reaper unmanned aircraft.
The Pentagon announced the contract award on Jan. 6. Work will be done on Block 1 Reapers — a heavier version of GA-ASI's Predator aircraft — and will take place in Poway. The job will continue through July 2017.
Air Force pilots fly Reaper aircraft by remote control, often from locations thousands of miles away.
General Atomics Aeronautical Systems Inc. is an affiliate of General Atomics, a privately held company based in La Jolla.
The Air Force Life Cycle Management Center at Wright-Patterson Air Force Base, Ohio, awarded the deal.