MIT Enterprise Forum Ends Contract With CONNECT
Tuesday, January 6, 2015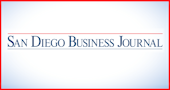 San Diego's Massachusetts Institute of Technology Enterprise Forum has reorganized and hired its own executive director for 2015, ending an 11-year contract relationship with CONNECT.
"We certainly appreciate CONNECT's past program administration," said Carol Corporales, the local chapter's chairwoman. "However, with our own management, we are pleased to be able to expand our technology programs to include more MIT content, networking and educational opportunities."
The new executive director is Anita Rusch.
MIT Enterprise Forum events — which are open to the broader technical community and not just MIT affiliates — will be held this year at the Sanford Consortium in La Jolla. The first event of the year will be at 5 p.m. on Jan. 14. A panel will discuss how technology influences distributed and virtual work teams.
For further information and registration, visit www.sdmitforum.org
The San Diego Business Journal is media sponsor this year.