BREWING: BALLAST POINT, AND OTHERS KEEP GROWING
Beer Economy Golden to Region
Friday, February 27, 2015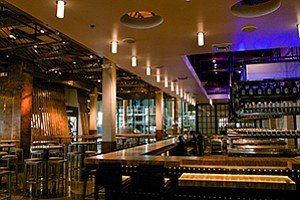 Few local beer makers had a growth ride on par with San Diego's Ballast Point Brewing & Spirits during 2014.
The region's second-largest craft beer brewer, and 29th-largest in the nation, produced about 123,000 barrels during the past year — nearly 40 percent more than in 2013. It ended the year with the opening of a new brewery-restaurant in Little Italy and a 107,000-square-foot brew house and restaurant facility that also now houses its corporate offices in Miramar.
The changes brought its local production site count to four, and its employee total to 350. "Three years ago, we probably employed fewer than 45 people," said CEO Jack White, who started the company in 1996.
San Diego County is set to witness the opening of its 100th craft brew-making business in early March, and experts at National University System Institute for Policy Research note that rapid growth now happening at Ballast Point and other large companies is fueling much of the job creation and other economic benefits flowing from the region's beer industry — to the tune of $600 million in 2014.
In its latest annual update on craft beer's fiscal impact — which has doubled in total dollar terms since 2011 — researchers reported that beer sales by local companies topped $847 million during the past year, an increase of 12.6 percent from 2013 and 24.4 percent from 2011.
The region's 97 breweries and brewpubs — as of Dec. 31 — created 3,752 jobs during the past year, bringing the local industry's employment total to 6,203 jobs — up 122 percent from 2011.
Vince Vasquez, a senior policy analyst at locally based National University System who authored the report, said the bulk of the past year's new beer-production jobs were created through manufacturing and distribution expansions by the region's larger players, including Stone Brewing Co. of Escondido, Ballast Point and San Diego's Karl Strauss Brewing Co. and Green Flash Brewing Co.
In addition, some of the county's smaller brewers — including Point Loma's Modern Times Beer, Miramar's Hess Brewing Co. and Vista's Belching Beaver Brewery — have recently been expanding to craft brew hubs like North Park, by opening new tasting rooms where bottled and kegged beer is sold but not produced on-site. Those venues have helped boost the region's service-related jobs.
"Not everyone is looking to grow a national presence," Vasquez said. "A lot of brewers are fine with a neighborhood footprint."
The Next Wave
Vasquez said the region had 98 breweries and brewpubs operating as of Feb. 24, and there were an additional 45 in the pipeline with owners in the process of obtaining state alcohol-sales licenses and city approvals. Even as the region sees its 100th opening, likely in the first half of March, Vasquez said the local beer industry still has "room to run."
The researcher said a key reason he's not concerned about an industry bubble-burst occurring anytime soon is that demand continues to be fueled in particular by consumers age 35 and under, entering the workforce with more money to spend and a preference for craft brews over older national "macro" brands like Budweiser and Miller.
Still, there are issues to watch from an economic standpoint. Vasquez said elected officials and business leaders will need to build more working relationships with brewing companies to foster further industry development, and the region will also have to address matters such as water usage and land-use policies.
Among North County's growing brewers is Carlsbad-based Pizza Port Brewing Co., which has recently been taking advantage of new canning technologies — which help preserve beer flavor while enabling portability and sustainability — to get its brews like Swami's IPA into the hands of more customers.
Cans, bottles and kegs now roll off production lines at the company's large Bressi Ranch distribution facility that opened in 2013, also housing Pizza Port's administrative offices and its fifth brewery-restaurant. Jesse Cardella, the company's director of finance and sales, said the expansion helped Pizza Port brew a total of 16,000 barrels during 2014, well up from 5,000 in the prior year, as its employee count reached 400.
Pizza Port was started in 1987 by siblings Gina and Vince Marsaglia, and the company recently began distributing three of its beer styles in the Las Vegas and Reno markets, under a deal with distributor Southern Wine & Spirits of Nevada. Cardella said that helped expand its reach well beyond its established Central and Southern California markets.
Ballast Point is seeing continued rising retail demand for its brews like Sculpin IPA and Longfin Lager. At its Scripps Ranch facility, CEO White said the company is in the early stages of entering the highly competitive distilled spirits market, gradually raising production of items like aged whiskeys, flavored vodkas and spiced rums.
"It's sort of like the craft beer industry, where we feel we can grow by approaching this as a specialized niche, with our own take on it," White said.