Sempra Investor Group Seeks OK to Expand Natural Gas Plant
Wednesday, February 25, 2015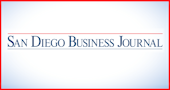 Cameron LNG announced on Feb. 24 that it is seeking federal approval to expand its Louisiana natural gas liquefaction plant from three units to five.
Sempra Energy (NYSE: SRE), the San Diego-based energy holding company, is part of a multinational investor group behind the Cameron joint venture.
Houston-based Cameron also wants to add a liquefied natural gas storage tank at its facility in Hackberry, La.
"The expansion project will allow Cameron LNG to export additional LNG from low-cost, reliable U.S. LNG supplies to international markets," said Farhad Ahrabi, CEO of Cameron LNG, in a prepared statement.
The improvements would increase liquefied natural gas production capacity by 9.97 million metric tons per year or 1.41 billion cubic feet per day. If approved, Cameron LNG's export capacity will be 24.92 million metric tons per year or 3.53 billion cubic feet per day.