KUDOS/GIVING COLUMN
Grant Will Fortify Food Pantry's Efforts to Fight Hunger
Friday, February 20, 2015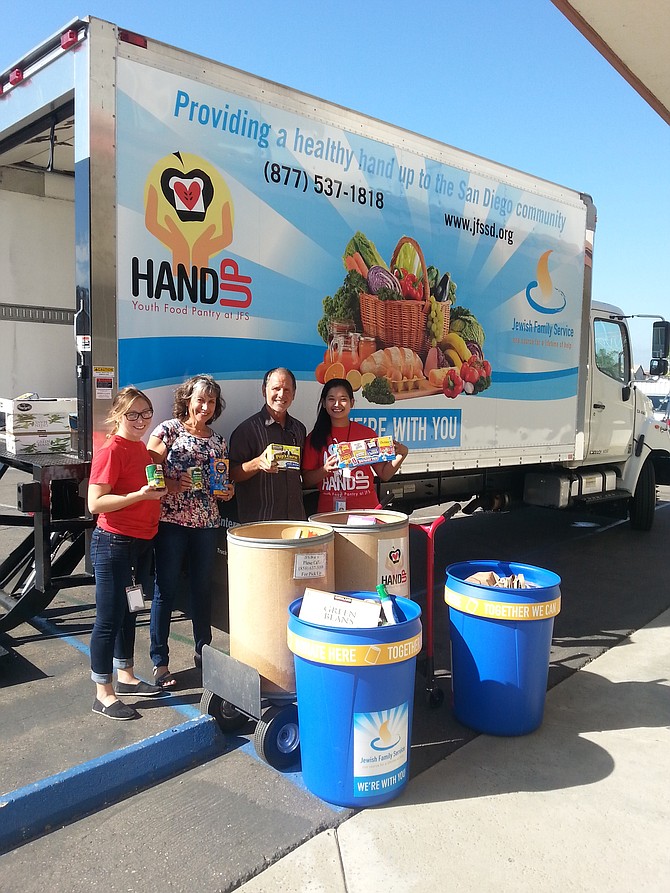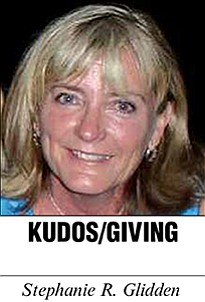 The Hand Up Youth Food Pantry at Jewish Family Service of San Diego was awarded a $75,000 grant from the S. Mark Taper Foundation. The one-year grant will support Hand Up in distributing supplemental food and providing essential supportive services to more than 8,000 people facing hunger in San Diego County, including older adults, military families, individuals and families facing temporary financial constraints, newly arrived refugees, and homeless individuals. The grant provides vital support to Hand Up during a period of growth and expansion. JFS is in the midst of a campus development project, including the expansion of its existing 800-square-foot food pantry.
• • •
Feeding America San Diego, the largest hunger-relief organization in San Diego County, recently announced the launch of the Diabetes Wellness Project in partnership with Third Avenue Charitable Organization, Baker Elementary School, San Diego Hunger Coalition and the University of California, San Diego's student-run Free Clinic Project. Approved by the UC San Diego Institutional Review Board, the project will be run by Feeding America staff and UC San Diego School of Medicine student volunteers. The American Diabetes Association estimates that an individual diagnosed with diabetes incurs average medical expenditures of approximately $13,700 per year, of which roughly $7,900 is attributed to diabetes.
"For those struggling to make ends meet, it is difficult to keep food on the table, much less maintain the strict diet necessary to manage diabetes," said Jennifer Seneor, director of programs at Feeding America San Diego. "Thirty-two percent of the households we serve contain a member with diabetes and 40 percent lack health insurance of any kind. Innovative projects like this will pave the road for a new approach to hunger-relief that goes beyond providing calories to improving the health of our communities."
The project will run for nine months, during which time Feeding America estimates it will provide diabetic assistance and food to 200 patients diagnosed with type 2 diabetes with the goal of reducing the effects and cost of the disease for those struggling with food insecurity.
• • •
San Diego-based EarthWise Pet Supply, a neighborhood natural pet food, supply, grooming and self-wash pet store, is holding "Love for Leashes," a leash and harness drive for Second Chance Dog Rescue through March 7. Collars, leashes and harnesses are high-need items for Second Chance Dog Rescue. When the organization places an adoptable dog in a foster home, a leash and other supplies are provided to the foster parent free of charge. Every time a customer donates a collar, leash or harness they receive one entry for a drawing for a $50 gift certificate to EarthWise Pet Supply. Norma Gervais, co-owner of EarthWise, said this is a simple and inexpensive way to support Second Chance Dog Rescue and get homeless dogs off the street and into loving homes. Second Chance Dog Rescue rehabilitates and finds new homes for dogs from local shelters, dogs surrendered by their owners for various reasons, and dogs from Baja, Calif. The organization relies heavily on volunteers who offer temporary accommodations in their homes. All dogs are spayed/neutered, microchipped, and up to date on vaccinations before adoption. Visit secondchancedogrescue.org. 
• • •
UTC Aerospace Systems — Aerostructures, formerly Goodrich Aerostructures, operates a facility adjacent to the Living Coast Discovery Center on the Chula Vista waterfront and it recently awarded a Student Scientist Series grant sponsored by Kyle Strong, associate general counsel for UTC Aerospace Systems, who serves on the Living Coast's board of directors. Marc Duvall, president of UTC Aerospace Systems — Aerostructures, said, "The center and its programs align with our goals of helping to build vibrant communities and advancing STEM education."
Send Kudos/Giving items to
sglidden@sdbj.com