MEDICINE: ACCREDITED SCHOOL IS SEEING INCREASING ENROLLMENT
Bastyr Fills Niche for Naturopathic Doctors
Friday, February 20, 2015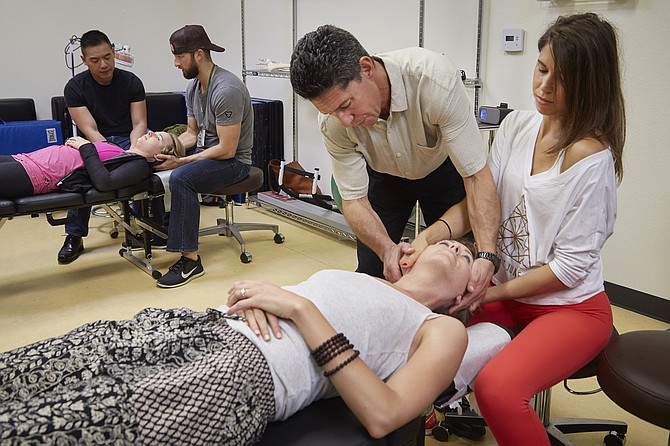 A new university in San Diego is training the next generation of primary care doctors in the state's first and only accredited natural medicine school — Bastyr University.
Offering education in areas such as herbal sciences, midwifery, nutrition and exercise, the university is growing in light of a substantial shift in the perception of natural medicine within the health care industry. In the past decade, mainstream health systems, as well as insurance companies, are accepting alternative medicine as a legitimate form of care.
Seventeen states license naturopathic doctors to serve as primary care physicians, including California, and seven additional states have pending legislation to do so.
Bastyr was founded in Kenmore, Wash., a state that's considered an "early adopter" of complementary and alternative medicine. The California Naturopathic Doctors Association approached leaders at Bastyr about opening a second campus in Southern California.
"They really wanted to expand the number of naturopathic doctors who are licensed and working in California," said Joni Olehausen, associate dean of Bastyr University. "They did some polling and a market survey and came up with this business plan to help expand our scope of practice by opening a natural medicine school in San Diego."
Going to California
Bastyr opened its San Diego campus in 2012 with just 47 students and a handful of faculty teaching from one building in Sorrento Valley. Over the past two years, the university has doubled the size of its campus, adding two additional buildings and tripling the size of its faculty. By fall 2015, the university will have enrolled 230 students in San Diego, in addition to over 1,000 students at the Kenmore campus.
Olehausen said the campus is growing faster than was expected, and the university is being forced to cap enrollment due to limited space and resources.
"Yes, there's tuition dollars with every student we bring in, but there's also the obligation and responsibility to provide a certain caliber of education that the students deserve and the number of patient contacts they need," Olehausen said.
Bastyr, a private and not-for-profit university, offers 17 undergraduate and graduate degree programs in areas of study like acupuncture, oriental medicine and health psychology. The university also offers a doctorate in naturopathic medicine, one of only seven institutions in the country that offer a naturopathic doctoral degree.
The university has an on-site clinic in which students get hands-on clinical training while being supervised by licensed faculty. At $60 for the first visit and $30 for any follow-ups, the clinic offers an affordable option to patients whose insurance does not cover natural medicine.
The Demand
A preventative health movement is underway in America, with its reach permeating hospitals and clinics. Market research shows that people are focusing on living longer, healthier lives by returning to the basics when it comes to lifestyle factors such as food, fitness, sleep and stress.
Communispace Corp., a marketing consultant company in Boston, published a new study that found that people in their 20s and 30s are more likely than previous generations to embrace alternative medicine such as acupuncture, meditation and massage. The study indicates that patients are increasingly concerned with wellness of the entire self — mind, body and spirit.
Dr. Christopher Suhar is a cardiologist, internist and director of the Scripps Center for Integrative Medicine. He specializes in integrative health — the marriage of evidence-based alternative medicine (yoga, acupuncture and meditation) with modern medicine to better fight disease and promote overall wellness.
Suhar believes dissatisfaction with the health care system is driving mainstream health systems to embrace alternative methods of care.
"This has been the force driving integrative medicine — a big dissatisfaction with the health system," Suhar said. "People feel like doctors are rushed, overwhelmed and they don't listen to their patients. There is this mistrust that all doctors want to push medication. People want more autonomy, they want to have the decision over their health, and there's a strong belief that the environment and lifestyle play a strong part on health and person."
Health care providers working in alternative medicine historically have struggled to gain mainstream understanding, credibility and acceptance. Many physicians today still scoff at certain methods, calling eastern medicine "quackery" and "bogus."
To help establish legitimacy, Bastyr points to its accreditation through the Northwest Commission on Colleges and Universities, an institutional accrediting body recognized by the U.S. Department of Education. Representatives from the natural medicine university are also quick to point out that its curriculum is steeped in evidence-based research.
Targeting Chronic Disease
The Bastyr University Clinic focuses on treating preventable chronic disease such as heart disease and diabetes, as well as common conditions such as depression, anxiety and stress.
The Milken Institute, an independent economic think tank, calculated that the management of chronic disease costs the nation $1.3 trillion annually in health care spending. Chronic disease is often preventable, with factors such as diet and lifestyle contributing largely to incidence rates, according to the Centers for Disease Control and Prevention (CDC).
To put that in perspective, total health care spending amounted to $2.9 trillion in 2013. That means that nearly 45 percent of all health care dollars were spent on highly preventable illness. However, the CDC estimates are much higher, calculating that the treatment of chronic disease makes up 84 percent of total health care spending.
It is possible that the Affordable Care Act, with its emphasis on preventative care, may expand the role of licensed natural health providers. But Olehausen said it's too early to predict.
"We're still trying to figure out what the Affordable Care Act means and how it will be implemented," Olehausen said. "Not every state is licensed, and even though we're trained as primary care doctors, not all insurance companies will reimburse for our services. There's a disconnect between how we're trained to practice and how we're allowed to practice depending on the state."
Although market research indicates that the public is more open to complementary and alternative medicine than in the past, the number of practicing naturopathic doctors remains relatively small.
According to the American Association of Naturopathic Physicians, there are only 4,500 practicing naturopathic doctors in North America. The U.S. alone employs nearly 900,000 physicians, making NDs less than half of one percent of practicing doctors.
Despite that fact, Olehausen said demand is growing for naturopathic doctors.
A 2011 survey from the Bastyr Office of Institutional Advancement found 88.1 percent of naturopathic medical alumni respondents said they were working in their field.
"It's a grassroots effort," Olehausen said. "Patients are pushing medical doctors to pay attention to what they want. They come in wanting things that the medical doctors are not trained in."
Olehausen added that by integrating alternative medicine with allopathic medicine, patients can access a more complete scope of care.