Neurocrine Announces $225 Million Public Stock Offering
Wednesday, February 18, 2015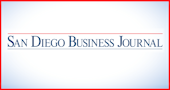 San Diego-based Neurocrine Biosciences Inc. has begun an underwritten public offering of shares of its common stock to raise aggregate proceeds of about $225 million.
Neurocrine anticipates using the net proceeds from the offering to fund its research and development efforts, to prepare for commercialization and for general corporate purposes, according to a recent news release.
In connection with this offering, Neurocrine (Nasdaq: NBIX) will also grant to the underwriters a 30-day option to purchase up to an additional 15 percent of the number of shares sold.
J.P. Morgan Securities LLC and Deutsche Bank Securities Inc. are acting as joint book-running managers for this offering.
Neurocrine develops pharmaceuticals for diseases with high unmet medical needs through its research and development platform, which focuses on neurological and endocrine-based diseases and disorders.